Yesterday was a first for me. I took my little iBook laptop--the hand-me-down one I got from my mom when she upgraded her laptop--to T.'s speech therapy appointment and I finished this column, worked on a syllabus for a class, and tinkered with some ideas for future posts. It's not that I haven't thought about taking the laptop to T.'s appointments before, or thought about that golden sliver of time--those precious 45 minutes of uninterrupted quiet time to work. But I never seem to have it together enough on Thursday mornings to remember to put the laptop in its bag and cart it out of the house when I leave, in a whirlwind, to teach my 8:00 class. Yesterday morning I had T. with me on campus for a few hours (school was delayed for two hours, meaning her preschool was canceled), and I had packed the trusty little iBook the night before so she could watch
The Little Mermaid
in my office while I worked. When I pulled up at the speech therapy clinic in the afternoon, there was the laptop, zipped up inside her dinosaur backpack. I have nothing but good things to say about speech therapy these days (and about the laptop, even if the DVD drive is held closed by duct tape), and this isn't just because I was able to use the 45 minutes to get work done. I'll go on record now and say that if you are contemplating speech therapy for your own child and you're worried about whether it will be "worth it" or make a difference, then rest assured: Speech therapy seems to deliver results. This was heartening for us to find out, because we have spent hundreds and hundreds of dollars over the past two years in occupational therapies and nutrition clinic therapies for L., and had become pretty disillusioned about whether these types of therapies really worked. Maybe they do, over lots of time, but with co-pays costing us $30 a pop each visit, we just had a hard time justifying the wait-and-see approach--plus I sat in on many OT sessions, and most of what went on during the 30-minute session were things we could incorporate into our daily routines with L. (and, in some case, already had).
When it became clear at the end of the summer
that T.'s speech issues really necessitated some intervention, friends and doctors told us that speech therapy can really deliver results fairly quickly. And after nearly five months of speech, the difference is remarkable. One week before she turned five she finally said her name correctly, and can now pronounce her entire name--including, of course, those problematic consonants in the middle--flawlessly and without prompting. She's blossomed over these months and seems more confident about her speech--less confused, less hesitant, and definitely more proud of herself. It feels
good
to have something go right, to feel a sense of re-affirmation that we made the right choice, and that speech has helped T. so much. As a parent you always wrestle with such decisions, and wonder whether you should wait, or whether you're overreacting or being a worrywart. My advice to any parents worried about their child's speech, or pronunciation, or language processing skills, is to go ahead and get your child evaluated--you have nothing to lose by it, and your child may have everything to gain. ************* While I'm on the topic of language and speech, T. got a few really fun, educational games for her birthday, and we've "road-tested" some of them over the past few days. T. isn't so much interested in games like Candy Land and Chutes and Ladders, but she loves puzzles and matching games, and all three of these games were winners, as far as we were concerned. #1:
Zingo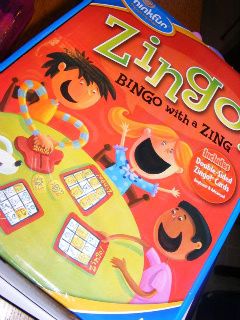 Zingo was lots of fun, too, but things fell apart pretty rapidly when we tried to play it with L. You have to be the first to call out the pictures you see, and this was just altogether too much pressure and competition for my kids to handle. I can see how a younger, sensitive kid (aka T.) might cave under the pressure, or feel bad when she couldn't call out the pictures as quickly as her opponent (aka L.), or how an overzealous older player (aka L.) might lose it when a younger player (aka T.) decides that all the "bird" cards belong to her. 2.
Dora Scrabble Junior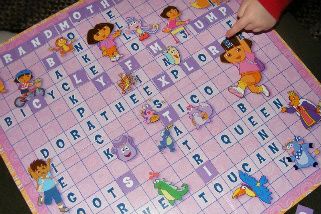 This was our favorite game, and I really liked the way the board is set up in a very preschooler-friendly way, with pictures and words--you can even flip it over and play in Spanish on the other side! T. had lots of fun looking for the letters herself and helping me find the ones I needed. This one definitely got two thumbs up. #3.
Hippo Menu Match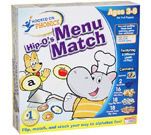 A great phonics game--really. I can see how this one could really help kids with letter recognition and early word-building skills. The only downside is those dratted round "food" cards the game comes with. They are super thin, and too easily end up between sofa cushions, under the couches, and in the cracks between furniture.
Happy Weekend
!