Scott andI have not been sleeping well lately; neither has L., which isn't surprising, and has something to do with our tired state these days. Classes start for me this week, and I'm still not sure what I'm teaching yet. I'm a planner by nature, so I'm trying not to let the fly-by-the-seat-of-my-pants start to things this fall bring me down too much. 
But I'm tired, and spread thin already. T. is so impatient for school to start she can't stand it. L. is perseverating like crazy to avoid the reality of the passing days, and he paces constantly, round and round the room. "I'm thinking," he'll say, but the pacing is slowly driving us mad--especially at 2:00 am.
Summer already seems like a dream, something from a long time ago. We've all been a little mopey, a little too tired, a little stressed these days, the way you get when you're waiting for something big to kick in--something that makes you all nerves-on-edge with anticipation. How did life get so busy on us? I was sifting through my old recipe posts, trying to find something sweet and quick to make, and I realized a) this walnut cake would be perfect and b) my life was crazy-busy even two years ago, when T. was just five and finishing up preschool and middle school seemed a distant reality, something too far away to worry about much.
*********************
Every now and then I stumble upon a recipe that sounds oh-so-appealing, but I'm just not sure how it will turn out. I actually feel this way about most of the crock-pot recipes I try out. When I'm cooking the conventional way, I can usually tell as I go along how the thing is going to turn out. As I mix and chop and knead and the different cooking smells rise up around me, I can almost taste the final product with the ends of my fingertips. There's something about theprocess of cooking that is almost as good as eating the results. Anyway, crock-pot cooking somewhat reduces this process for me, although this isn't a bad thing at all. But this cake--this Greek walnut cake--transcended all expectations, and there was plenty of mixing and blending along the way to make me feel as though I could be fairly certain of its success.
I've been eyeing this walnut cake recipe for some time, but in an I'll get to it some day sort of way. However, last Thursday, when I got my hair cut, I had to sit, held captive in the chair--and at lunchtime, no less--and listen to my stylist tell me all about a delicious Greek meal some friends had brought over, complete with loaves of crusty bread and a walnut cake for dessert. When it comes to food, I'm a very impressionable person and at that moment, sitting in the soft chair, with the soothing snip-snip of the scissors around me, I wanted nothing more than that walnut cake. Right then and there.
Of course, I had to wait, because it was only Thursday, and that short interlude of shampoo, cut-and-blow-dry-peace gave way to rushing to pick up T., sitting in the speech therapy waiting room (still thinking about cake and my missed lunch), picking up L., plodding through two torturous pages of math and science homework, and rushing home to cook an eleventh-hour dinner. But always I had that walnut cake on my mind, and the hope that it would turn out just as I imagined, and it did. Sometimes this is all a person needs, really--something simple that turns out just as you wanted it to.
Crock-pot Greek Walnut Cake (adapted from here)
2 cinnamon sticks, broken into pieces
4 to 6 black peppercorns (this sounds weird, but you won't taste them, I promise)
1/2 teaspoon ground nutmeg
4 to 6 whole cloves (I omitted these because I didn't have any)
1/2 cup unsalted butter (or fake-me-out substitute)
2 cups sugar
1 cup nonfat plain yogurt
6 eggs
2 cups all purpose flour
1 teaspoon baking powder
1 teaspoon baking soda
1-1/2 cups chopped walnuts
Grease the bottom and sides of the slow cooker insert with butter or cooking spray. Cut a piece of waxed paper to fit in the bottom, then grease the wax paper as well.
Combine the cinnamon, peppercorns, nutmeg, and cloves in a mortar or coffee grinder and grind to a fine powder.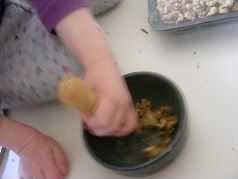 (T. was excited to use the mortar and pestle, but instead of grinding everything, the cinnamon sticks flew all around the kitchen in big chunks. We used the coffee grinder instead.)
In a food processor (I don't own one, shocking though this is--we used a regular mixer), combine the butter, sugar, yogurt, and eggs, and blend/process until smooth. Add the spice mixture, flour, baking powder, and baking soda and mix until blended. Stir the walnuts in by hand.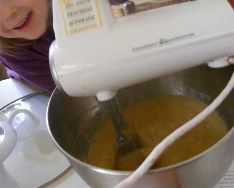 Pour the batter into the prepared slow cooker. Cover and bake on high for two hours, or until a toothpick inserted comes out clean (note: mine needed an extra 50 minutes, and I propped the lid open with a chopstick for the last 30 of it). Remove the insert from the cooker and allow the cake to cool for at least 30 minutes in the insert. Use a knife to "pop" the cake out of the insert--mine came out easily.
I think this cake would be good with or without a syrup glaze, as the recipe in my book suggests. However, you can make an adaptation of the syrup they suggest by mixing one cup of honey, with 1/2 cup of water and 1/2 cup of sugar, a squeeze of lemon, and a cinnamon stick. Bring to a boil, then simmer until the syrup thickens (mine didn't really thicken much, but it still worked). Pour hot syrup over top of cake and serve immediately. Drizzle the syrup over the cake slices and let stand until it is completely absorbed.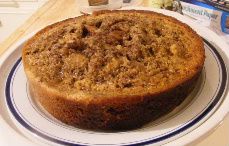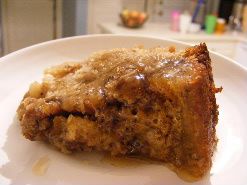 This cake combined the ease of the crock-pot, the texture of cake, and the chewy/crunchy sweetness of a pecan pie-like topping--to make the perfect dessert for a spring-like day, or for a day you just wish were more spring-like.