For over a month now, T. has been smitten with the idea of making--not chocolate chip cookies, or rice krispie treats or bread, even, but
petit fours
. You know, those tiny, prettily decorated cakes that you see at fancy tea parties. I never much liked petit fours myself. Sometimes, when we were in Greece for the summer, some relative would show up for tea in the afternoon with a box of petit fours from the bakery. They looked lovely: pink and white and green icing, decorated with little swirls and bows. But petit fours always seemed to disappoint: they are all showy and pretty on the outside, but inside they were always dry, tasting too much like almond extract and stale icing.
One of the chapter books
T. and I read earlier in the summer featured a very charming tea party, complete with petit fours, and T. fell instantly in love--with the little cakes, the tea, the idea of a tea party--the whole package. "Can
we
have a tea party?" she asked me as soon as we were done with our reading that night. "A tea party, with petit fours and real tea and EVERYTHING?" I had to promise,
yes
, but the petit fours niggled at me a little, because they seemed both complicated to make, and not too appealing from my perspective. T., however, was convinced that petit fours would be the most amazing, delectable, magical treat ever and I'm always up for a kitchen challenge. She could scarcely get to sleep that night, she was so excited about the idea of a real tea party. I was in love with the idea, too. My favorite part of planning such events is the research I get to do beforehand. I found
this easy recipe
for petit fours, and
this charming blog entry
on another girl's tea party. In a recent issue of T.'s American Girl magazine, I found some recipes for
adorable tiny treats
--tiny cakes, and itty bitty tea sandwiches. I was smitten.
The sandwiches are super-easy to make--I've made jelly-roll bread sandwiches before
, for a couple of T.'s preschool parties. Roll out a piece of white bread with a rolling pin until it's super flat. Spread with cream cheese, peanut butter, honey, or jam. Roll up jelly-roll style and cut with a sharp knife. You can even color the cream cheese with a drop or two of food coloring to fit the occasion.
You have to, of course, have the traditional crustless tea sandwiches as well
. The petit fours recipe I used (link above) is very user-friendly. You just need to think out the steps ahead of time, and plan in advance. The cake has to freeze for at least 12 hours before you can cut it into squares and pour the fondant icing over it all.
T. loved helping out with the pouring and the decorating--it's definitely a kid-friendly project for slightly older children
. But be warned! Six-year olds + fondant icing = lots of sticky times in the kitchen.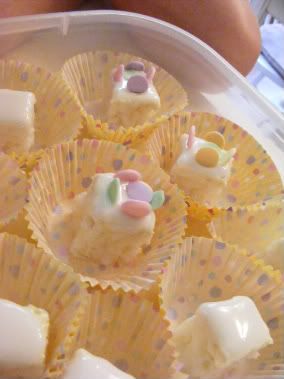 I actually liked my petit fours better than the petit fours of my childhood. Scott said they tasted like mini donuts--always a good thing.
These little cakes were some of my favorites
. They're simple to make-frost two chocolate sandwich cookies together and decorate! Let the cookies sit overnight so the cookie part softens to cake consistency. I think these little mini cakes were the hit of the tea party.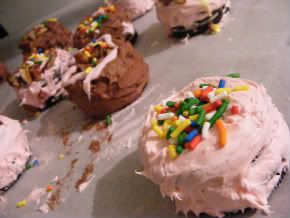 These were MY personal favorites
, but they weren't a big hit with the kids, as it turned out. The jello took on a decidedly tart lime taste and the kids just didn't seem to like the combination of strawberry jello and lime. I thought they were refreshingly tart and I loved their summery, bright look.
And, of course, no tea party is complete without
the table for the dolls!
And the table for the bigger girls
...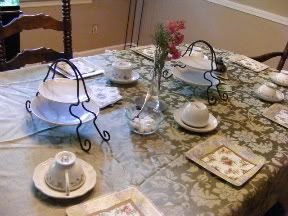 T. and her friends had fun, and lots of herbal mint tea was consumed, along with way too many sugary mini cakes, cookies, and tea sandwiches. That night, as I tucked T. into bed, and asked her how she'd liked the tea party, she looked sad for a moment. "I didn't like the petit fours," she said, and tears sprang to her eyes. Tears? Over petit fours? But no, there was more: "I waited for my tea party so long and now it's over," T. said, her lip trembling, and fresh tears sprang to her eyes. I knew just how she felt: all the planning and dreaming never ever ends up matching in time the moment you waited for. It's always over in the blink of an eye and, while you might love every single minute of it, you can't help but wish you could go back to the planning and dreaming part, when all things are magical and possible, and you can almost taste the cake on your tongue, sweet and pink, truly the stuff of dreams.