Even though I am, by nature, a positive-minded person (at least I like to think I am), I also go through my days keenly aware of both the sweet and salty sides of life--the joyful and the bitter, the two-sidedness of every experience--especially as a parent. I've often written about how each exciting, monumental milestone along the road of your child's development--that first tooth poking through a pink gum, the first bow-legged tentative steps, the first words, the first of everything (because there is NOTHING like being a parent and getting to witness the unfolding of life firsthand) has always a backside to it, like when you find the most unexpectedly perfect pastel and ivory shell at the beach, one side worn smooth like silk from the waves, and then you turn it over and see the rough outside, dark and scratchy, and maybe there's a barnacle or two clinging to it.
So I'm going to get the salty out of the way first here, and write about how T.'s last preschool Christmas concert EVER is today, and she's been waiting for it for weeks now, waking up every morning to ask, "Is my concert today?" and she already has memorized not only her lines to the song, but the narrator's lines, as well. As the laws of timing would have it, we have to miss her concert, because of a very important doctor's appointment for L. we've had scheduled for five months now, long before the date for the concert was set. The appointment is far more important than the concert, if you weigh the two objectively, but I'm still sad we'll miss T.'s last Christmas concert. If you turn over the rough side of this shell, though, the unexpected pastel and ivory side to it is that my dad has come into town so he can go to T.'s Christmas concert. I'll think about him, sitting straight-backed in a pew of the church, watching his granddaughter belt out the words to Follow the Star, and I'll almost be there next to him (because as a parent, even if you can't physically be in two places at once, you can certainly be in as many places mentally as you need to be), watching T. in her little red dress, a tiny girl with such a big heart and soul singing herself almost right out of her new Christmas shoes
Her last preschool Christmas concert.
But my dad's first preschool Christmas concert.
************
For sweetness, I leave you for the weekend with this easy and delicious way to use up all those extra chopped nuts you bought for Christmas baking recipes. Of course, you can store the nuts in a tightly sealed container or ziploc bag for months, or you can make this:
Holiday Nut Clusters
2 cups whatever nuts you have left over (I used pecan halves and almond halves)
1 cup sugar
1/4 cup brown sugar
2 tablespoons butter
1 teaspoon vanilla
Line a baking sheet with foil or parchment paper; butter the foil/paper and set aside. In a heavy skillet combine nuts, sugar, butter and vanilla; cook over medium-high heat, shaking skillet occasionally, until sugar begins to melt. Try not to stir much.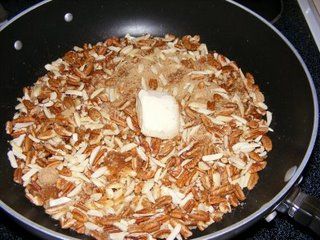 (It looks like a pan of some type or rice pilaf dish, doesn't it? I think the slivered almonds look like rice.)
Reduce heat to low, and continue cooking until sugar is golden brown, stirring occasionally. Remove skillet from heat; pour nut mixture onto the prepared baking sheet. Cool completely and break into clusters.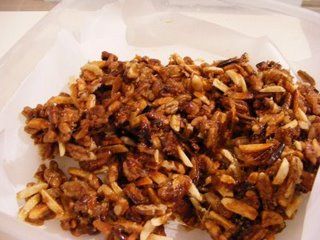 Store tightly covered (if you have any left to store, that is--this goes fast around our house!)