Remember
our neighbors and the bounty
that sometimes comes our way? We got home yesterday and found this little pile on T.'s chair on the front porch.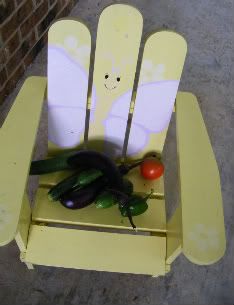 It's been a long, frazzling week--the kind of frazzling you get when you spend five days in a row in meetings and workshops with one foot straddling the back-to-work world, and the other firmly planted in the world of home,
then
you spend too much time fielding problematic e-mails from your son's school (if our complaint last semester was a lack of communication then, boy, the school is making up for it THIS year) and dashing over there in-between meetings for emergency damage-control sessions. Whew. I'm excited for the new semester to begin, but the transition from summer to back-to-work is a hard one to make
every
year--especially for T., who doesn't start school until the last week in August. Bouts of periodic restlessness and boredom have given way to complete impatience on her part: "I want to start school NOW" she told me the other day, her little hands balled up in frustrated fists by her side. I've felt out-of-sync, spread-too-thin all week long. Soon I know, we'll all slip back into the rhythm of the school year, but these next few weeks will be tough. I'm still adjusting to all the demands on my time: no time to cook, no time to work on crafts, no time to fit in one last summer science activity before the hot, lazier days slip away for good. But when we got home on Thursday and found the bounty on T.'s little chair, I felt inspired. Weeks ago (in the throes of long, hot, lazy summer meal planning) I came across a recipe for a summer vegetable tart. It mainly involved roasting some of summer's best bounty in a mixture of olive oil, garlic, and some fresh herbs, and baking it in the center of a simple refrigerated pie crust. Alas, I forgot to bookmark the recipe, and couldn't find it, but I decided to give it a try anyway--the picture of the tart was still vivid in my head, and it seemed just the thing to make on Thursday night. The results were as mouth-watering as I had imagined--a tasty mixture of roasted summer vegetables tucked into a flaky crust. This couldn't have been easier to make--
or
eat.
Roasted Summer Vegetable Tart
1-2 small eggplants (I used my neighbor's Japanese eggplants), cut into 1-inch wheels 2-4 medium-sized zucchini. I used four--two green, and two yellow. A variety of sliced peppers--I used one yellow, half of one red, and the tiny, sweet green pepper my neighbor gave us. Asparagus, trimmed. 4 garlic cloves, chopped Dash of coarse salt 1 sheet refrigerated pie pastry 1-2 tablespoons cornmeal Grated asiago or parmesan cheese Minced fresh basil In a large bowl combine all the chopped vegetables with about 3 tablespoons olive oil, the garlic, dash of salt, and pepper if you like. Toss until coated well. Transfer to an ungreased backing pan and roast at 450 for about 25-30 minutes, or until the vegetables are tender. Stir every so often, to make sure they roast evenly (plus I love opening the oven and smelling roasted vegetables, don't you?) On a lightly floured surface (dust with cornmeal), roll out pastry into a large circle. Sprinkle more cornmeal over a greased pizza pan. Place dough on prepared pan. Spoon vegetable mixture over pastry. Fold the edges of the pastry over the filling, but leave the center uncovered. Drizzle a little extra oil over the top, and add the grated cheese.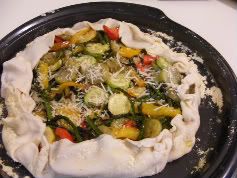 I baked the tart at 450 for about 25 minutes, but make sure you take it out when the crust is lightly browned. Top with fresh herbs.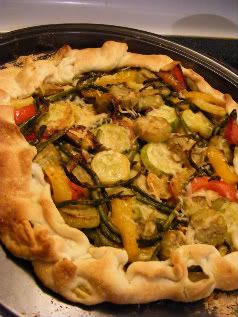 I'm already thinking about twists on this version--maybe feta with roasted tomatoes and basil? Or capers and olives with roasted peppers? I think the possibilities are nearly endless...
Happy Weekend
!