If your household is anything like mine, when you go on a trip to the beach you end up bringing back bags and bags of shells and rocks. When we went to Greece two years ago, half of one suitcase was loaded down with ziploc bags filled with gorgeous rocks, which the kids and I had plucked from the violet-blue sea, many thousands of miles away from home. The shells and rocks are always so beautiful the minute you pull them from the sea, but by the time you return home and dump them out onto a table or porch, they seem plainer somehow, only shadows of what they looked like--kind of the same way vacation photos never can quite capture the true spirit of a moment. We have a ritual we do with these shells and rocks. They sit in bags for days, sometimes weeks, as we process the return back from vacation to normalcy. Then, on some given day (perhaps a day when we are feeling dragged down by the dog days of summer, or sad that school has started again), we dump the bags out and polish and varnish the shells and rocks, until they sparkle and glisten just as if they had just been pulled from the sea. It's amazing how just turning the shells over and over in our hands can bring back memories of the moment we found them, reaching into the swirling water and
oohing
and
ahhing
over how pretty and unusual they were. Here's how to make them shine again--and kids LOVE doing this because the end results are just so neat and gratifying. First spread out your shells and rocks and spend a good ten minutes sifting through them again:
(Of course no shell-polishing experiment is complete without the world's largest tub of blueberries to keep you going.)
Take a cloth rag or paper towels and wet with vegetable oil (or canola oil or sunflower oil--it doesn't matter). Give your youngest child the job of polishing the shells and rocks with the vegetable oil. They will instantly turn shiny and slick! You can stop there if you want, but after some days the vegetable oil will rub off or be absorbed and the rocks and shells will go back to looking dull. If you have an older child, like L., or a carefully supervised smaller child, you can varnish the shells and rocks with clear nail polish and they will stay shiny forever! We have a huge bowl of rocks we have collected from various trips and they are all still sparkly and shiny, the characteristic grains and swirls still as clear as the day we found them. Once you have them varnished/polished, you can then get creative. T. made a necklace:
and she helped me pick the shells and rocks so we could come up with designs for paperweights like these
: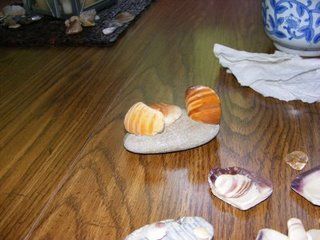 We glue-gun the shells into place, into interesting shapes and designs. The kids can certainly take the lead on these, or come up with their own "shell sculptures," as long as you keep control of the hot glue gun (T. likes to think she can use it, but she's got a few years to go before doing THAT). As a result, we have lots of imaginative shell and rock paperweights around the house and sitting on windowsills. They also make great gifts, and Scott and I have a few picked out to take into work, where they will sit on our desks and remind us (on those most tedious work days) of summer and the sea and castles, and of our children's footprints in the sand, leading to the sparkling ocean's edge.