I cooked too much this weekend. I didn't set out trying to do that, but we had a very social weekend, with friends coming over to eat two nights in a row. Some good friends in the neighborhood are also dealing with a sudden illness and hospitalization, and so I cooked up a batch of vegetarian chile on Sunday, along with some vegan biscuits, to take over to their house. In between all the baking and cooking (black bean tacos on Friday, African peanut stew and homemade steamed brown bread on Saturday), T. and I found some time to make some early Halloween decorations. T. loves any holiday, and any celebration, and she can barely wait to break out our bins of Halloween decorations in the crawl space.
Last February ,T. and I made stained glass hearts by pressing multi-colored crayon shavings between wax-paper hearts. We placed a dish towel over the top of the hearts, and used a warm iron to melt the crayons. The hearts came out beautifully, and we passed them out to her first grade classmates, and to neighbor friends. We still have one of the hearts hanging from our kitchen chandelier, and looking at it gave me the idea of doing the same thing, but with pumpkin shapes and orange and green crayon shavings.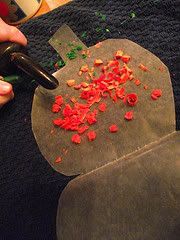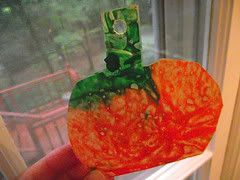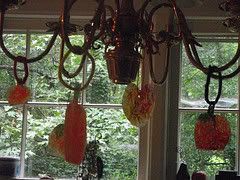 I love our stained glass pumpkins. They catch the light so prettily in the late afternoon, and seem to glow, just like a real jack o'lantern glows on a chilly dark October night, when lit from within with a candle stub.
******************
Here's the recipe for the vegan biscuits I made! I think they came out great--especially good with a driblle of agave syrup (or honey, if you're not vegan) over the top. Our friend had major heart surgery and must eat a vegan AND low-fat diet from here on out. This will be a huge change for their family, and I am hoping the biscuits and chile will help ease the transition.