Scott and I have been working away at a long to-do list this week. We made the most of the three days the kids were still in school to do lots of wrapping, and last-minute gift buying, and organizing the odds and ends that always go along with Christmas. On Thursday we were all home together, and I had cookie baking on my to-do list. Cookie baking--at long last! What I did not have on my list was taking both kids in to the pediatrician. L. has been complaining of a sore throat for a couple fo days now, and T.'s sinus infection, which clearly didn't clear up after the first round of antibiotics (that terrible round that resulted in her allergic reaction--she still has some residual hives from that!), has come back in full swing. Since we are traveling for Christmas, the thought of hitting the road with sickies in tow just wasn't at all appealing. Plus we were worried about spreading any serious germs to our family members--especially to my baby nephew. Luckily, both kids have only non-contagious sinus infections, so we'll be packing antibiotics with us and they should be feeling back to themselves by the weekend.
Once we had crossed the pediatrician off our list, T. and I turned to cookie making. One of our favorite cookies to bake at Christmas are stained glass cookies.
I veganized the recipe and used Ener-G egg replacer and Earth Balance, and the dough came out perfectly fine. I chilled it overnight, brought it to room temperature in the morning (while we were at the pediatrician) and working it with my hands a bit before rolling helped.
Before you start baking, put the hard candy in ziploc bags, cover with a dish towel (place on a wooden cutting board, too), and turn your older child loose with a hammer.
I supervised and made sure T. knew to pound gently. If you pound too hard, the candy bag will split and pieces of hard candy will go flying all over, much to the delight of your dog. 
You'll need large cookie cutters, and mini ones, too, for the cut-out parts. Put lots of crushed candy into the cookie cut-out part, because as it melts and hardens later you'll find the stained glass looks better if you ended up with more candy to melt.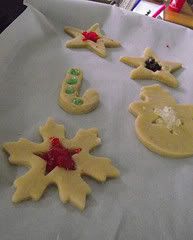 Bake for about eight minutes, on sheets lined with parchment paper, and take the cookies out when they are very lightly browned along the edges. Let cool for a long time! If you try and pry them off the cookie sheet too soon, the candy part will stay stuck to the parchment paper.
Eat!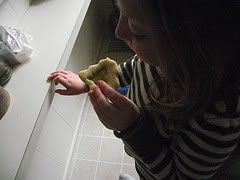 Merry Christmas and happy holidays to all, from our house to yours!
See you back on the other side of Christmas...