It doesn't seem fair somehow that the first official day of spring should have come on the last official day of my Spring Break. I spent most of Friday in a funk, mourning all the things that I wanted to get done over break (sleep was on the list, and even THAT didn't get done). But it's hard to stay droopy for long when you're given the gift of a spectacular spring weekend; when you stand outside on the front porch to breathe in a little crisp fresh air on a Saturday morning, sip your hot coffee, and discover your favorite azalea plant peppered in little tight pink buds. Later that morning T. and I played in the driveway, spotted crocuses and tiny violets, and we found some sad, dried out acorn cups. "What can we do with these?" I wondered out loud. "I know!" T. replied (she's always a sunshiney wealth of ideas). "We can build a fairy house!" Fairy houses are by far one of our favorite things to build. You can, of course, only build them in the fall and spring, because the other months of the year the fairies go into hiding. Everyone knows this. There are also some other rules you have to follow: A fairy house can only be built from natural items that are already lying around for use. You can't pick flowers to decorate it, or break twigs off a tree--these rules provide your kids with a good impromptu lesson on respecting nature, and on treating it kindly. You also should build your fairy house at the base of a tree. I'm not exactly sure why this is a rule, but it's a fairly universally-known rule, I think. It might not hurt to also build your house near wild already-growing flowers, so, as T. knows, the fairies can have ready access to nectar (you do know that fairies drink nectar, right?). Here's the house we built:
L. the practical realist that he is, drew paper pictures of fairies to put inside the house. Because, as he whispered to me, he didn't think real fairies would come. *********** After T. and I finished our fairy house, we sat at the kitchen table for lunch. I happened to look up and noticed that the
paper snowflakes
we made in the winter were still hanging from the kitchen light above the table. Travesty! As soon as we cleared the lunch dishes, T. and I set to work decking out the kitchen for spring. She drew a picture of flowers to replace the winter snowflake picture on the wall:
(
When did she get so good at drawing flowers?
) And then we set to work making paper flowers. Grab a stack of spring-colored construction paper. Fold three or four times as you would when making paper snowflakes. Using scissors, cut out scalloped edges, to make flower petals: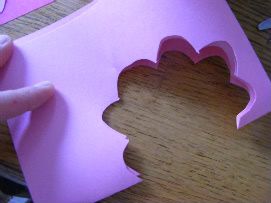 You can do this with multiple pieces of construction paper, so you get many layers of different colors.
Then glue the layers on top of each other, flipping them at alternate angles so all the colors show, and they look just like real flowers: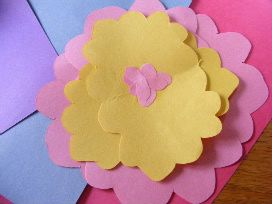 These are great for taping onto windows, adding to collages, or doing as we love to do, which is to hang them from our kitchen light.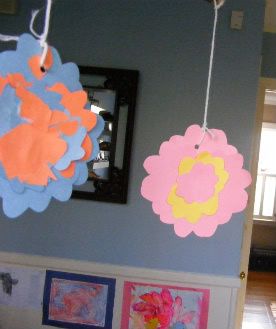 I think spring is officially here.