Looking back on yesterday's preschool Halloween party, I think it's fitting that my last preschool Halloween party for my kids ever (sniff!) would be not unlike the first one ever, when L. was three. I didn't make those whoopie pies that year, but I did make sandwiches and cut them into pumpkin shapes with the same orange pumpkin cookie cutter I used this year. The year L. was three, I raced home after teaching my one and only class that day (I was still a part-time adjunct instructor back then) and I had a few hours in the morning to get things ready. This year, there were certainly not enough daylight hours in the day on Wednesday, so Scott and I ended up cutting up 20 cheese sandwiches into pumpkin shapes at 9:00 p.m. at night. (We saved a whole bag of bread trimmings, which I'm going to use to make this bread pudding tomorrow.) While I was carefully wrapping up each sandwich in plastic wrap, I couldn't help thinking about how I was symbolically wrapping up yet another milestone; another step forward in a series of strong and steady steps forward in my children's childhoods. Next year there won't be any preschool party to plan for, no little four-year-olds shaking themselves silly over the Monster Boogie on the alphabet rug. My daughter will be five--FIVE!--and I'll miss preschool, I really will.
But if you have preschoolers who will be having Halloween parties next year, and if you decide to take on the packing of lunches, you can cut sandwiches into shapes with a cookie cutter, pack them along with creepy crawly cheese cubes (stick pretzel sticks into the cheese to make them into bugs and spiders), add a drink, then seal the brown bag up with a wooden ornament or other Halloween decoration.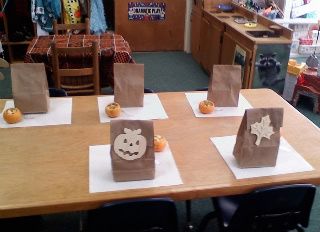 Another parent hollowed out tangerines and filled them with diced fruit, for quick and cute "pumpkin" bowls. The kids shrieked in delight when they saw the mysterious brown bags at their spots (lunch is always more exciting when you unpack a plain bag and discover what's inside), and even a plain cheese sandwich is more interesting when it's shaped like a pumpkin. After lunch they played "pin the eye on the monster" (draw a monster on a large sheet of craft paper and give each kid a sticky googly eye--you can buy bags of these in different sizes at the craft store). I think they enjoyed the blindfold part more than anything, but it was fun all around.
I'll be making our annual finger cookies later today for the weekend, and not only do they look suitably gruesome for a Halloween party, but they are buttery and delicious, a lot simpler to make than whoopie pies, and perfect for packing in lunches--even days after Halloween has come and gone. I'll roll out the dough and tell myself that even if there won't be any more Halloween preschool parties for my kids after this year, there will be years of new traditions to spin, and old ones, too. I realize more and more how important traditions are--how they bind us to the past, give us joy in the present, and guide us along into the future. Even as I try to hold on to these moments in the here and now, there are always my children, tugging at my hand, ready to throw themselves into the days ahead, and the next holiday, the next magical moment--they all stretch out ahead for them, endless and filled with promise.
Happy Halloween!