See this?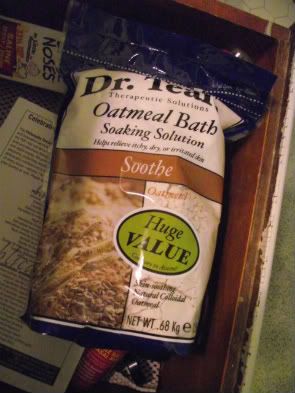 A huge bag of oatmeal soak. L. picked it out about four months ago. Taking him grocery shopping is always interesting, and while it can be very frazzling, I try and do it as often as I can bear because I think it's good for him. He'll wander the aisles with me and find something that catches his interest and I'll almost always buy that food or fruit item for him (unless it's junk food) because I'm so happy that he's showed an interest in something edible. This was how we discovered star fruit, when L. was three. He was so taken with the shape of the fruit, and with its name that we bought one on the spot, and he's loved it ever since.
Sometimes, when I take him to the store, we'll end up with something random, like the oatmeal soak. 
"Why do you want this?" I asked him,
"It says on the bag it's good for itchy skin," he said. "My skin is itchy."
T. thought the soak was a good idea, too. I thought there could be worse things than having a huge bag of oatmeal soak on hand, so we bought it. A few days later L. complained of itching, and I suggested the soak.
"I'm not using that NOW," he said. And then he explained that the soak for was for the day after his last day of school--to wash away all this past year, and "cleanse" himself for middle school; shed the stain of this difficult year.
The soak is in one of the bathroom cabinet drawers. The bag sits there, heavy and promising. I caught L. reading the label the other day. It doesn't say anything about washing away the pain and stress and heartache of this past year, but I never, ever underestimate the power of a good, long, soak.
***************
We're picking the kids up from school today and heading off to D.C. for a quick weekend visit with my sister, her husband, and the new baby! I'll be back on Tuesday!
Happy Weekend!