In between classes yesterday I called Scott, to see what he and L. were up to. L. has a few more days left of Fall Break, and we've reached the point where the novelty of staying home has somewhat worn off, and L. is bouncing off the walls--literally and figuratively. As it turned out, Scott had taken L. to a "creative reuse center"--a truly wonderful place and a great way for kids big and small to learn about recycling and the powers of imagination. If you ever wondered what happens to all the containers and leftover junk (like empty CD cases, plastic sleeves, old wallpaper samples, empty wire spools, and just about any other imaginable or unimaginable combination of odds and ends), I can tell you they all end up there, at the Scrap Exchange. For $7, a kid can fill up a bag with anything that catches his eye, then take it home and dump it all over your floor, or kitchen table, ready to create.
We took L. to the Scrap Exchange about three years ago, and he filled a whole bag with scraps of all sorts, came home, dumped the contents on our family room floor, and got to work. It's amazing how ordinary scraps we wouldn't think twice about become transformed when seen through children's eyes. An ordinary metal coil becomes a magic spring which, when attached to the bottom of your foot with duct tape enables you to leap to unimagined heights.
Yesterday L. came home with these spoils: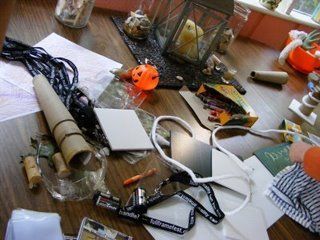 Scott did make L. dump his bag on the table on the screened-in porch, although later I discovered piles of plastic sheets and cardboard stowed under the train table in his bedroom.
"What's all this?" I asked him, sternly.
"It's for the airplane I'm building," he told me, spreading out his arms in front of his collection, warding off the spectre of the Mama with that look--the "time to get the trash bag" look. So I let L. keep his supply, although I told him he absolutely couldn't keep the finished airplane under the table.
"Oh Mama," he scoffed. "I'm going to rent a HANGAR for that."
In my never-ending battle against clutter, I tend to toss all sorts of things I shouldn't--even though we do try to take recycling seriously at our house. But I guess recycling can go beyond just sorting out glass from plastic. I never knew I could collect "scraps" and donate them to a place like The Scrap Exchange so someone else's children can find the magic in them. If you don't have your own Scrap Exchange, consider filling up some bags and boxes with kid-friendly odds and ends and pass them along to your child's preschool or elementary school--or save them for a rainy day or a playdate. Our favorite rainy-day activity is to dump scraps and crafty things on our porch table and set the kids to work, inventing and dreaming, and using their hands to twist impossible bits of rope and cardboard into fantastic creations.
You know what they say...one person's trash is another person's treasure--or another kid's airplane-in-the-making.
Or Leaf Catcher.
Or dream.