When Scott and I honeymooned in Santorini (fifteen years ago!) we had some memorable meals--some memorable and very inexpensive meals. This is one of the things I love and appreciate about Greece in particular--you can eat so inexpensively and almost always very memorably, too. It's not even as challenging as you might think to find good, cheap vegetarian fare. Now that vegetarianism has become so much more visible and acceptable than it was fifteen years ago, I am sure that traveling to Greece and discovering ways to eat healthy, inexpensive vegetarian meals has become easier than ever.
When we were in Santorini we had some absolutely delicious pseftokeftedes--roughly translated, these are "fake meat patties" and they are traditionally made with potato, or chopped tomatoes, or sometimes zucchini. Blended with egg and herbs and onion, you form them into patties and fry them. Our meal that night consisted of a plate each of these, garlicky yogurt-cucumber spread on the side, crusty bread, and a cold carafe of local white wine. It was, hands down, one of the more memorable meals from that trip. Maybe it was the pseftokeftedes, seasoned just right; maybe it was the balmy Mediterranean wind blowing ever so lightly across our faces while we ate; maybe it was the honeymoon itself, sweet and memorable even now, fifteen years later.
Last night I decided to make my own pseftokeftedes--or, to spare you the mouthful--zucchini cakes. I used shredded zucchini and one tomato, chopped coarsely. I scalded the tomato first to remove the skin
and then I diced it and mixed it together with the zucchini. I decided to make these vegan, since I have stopped cooking and baking with real eggs. They held together wonderfully!
Vegan zucchini and tomato cakes
2 1/2 cups (roughly four small zucchini, or three large ones) peeled and grated/shredded zucchini
1 large tomato, skin removed, diced into cubes. If your tomato is on the ripe side, take out the seeds and pulp on the inside, and pat dry with a paper towel
2 tablespoons Earth Balance
1 cup cracker crumbs (I crumbled up Trader Joe's Social Snackers--love those!)
1/4 cup finely diced red or yellow onion
1 teaspoon Greek seasoning (I use this)
salt to taste
1/4 cup all-purpose flour for adding to the zucchini mixture
1/2 cup flour for dredging
oil for frying
freshly ground pepper
Spread out shredded zucchini on a clean dish towel and roll up. Squeeze and twist to remove as much zucchini liquid as possible, or your cakes will be wet and won't fry right.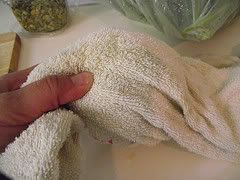 In a large-size bowl, combine zucchini, tomato, and Earth Balance. Stir in cracker crumbs and diced onion. Add the 1/4 cup flour. Mix until combined. Add a little Greek seasoning and salt, to taste.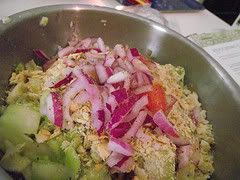 Coat your hands with cooking spray or oil and shape the mixture into patties. Coat each patty in flour. In a skillet heat the oil until hot enough for frying. I never quite get the first batch right. The trick is to wait until the oil is hot enough. Even so, the first few patties will never come out as well as the last few. Fry patties until they are golden brown on each side. As they are frying, sprinkle the patties with Greek seasoning.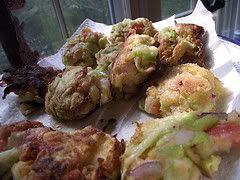 Our across-the-street neighbor came over with her girls and we polished these off with a salad, and plain pasta for the kids (dessert was a pan of brownies--needless to say those were gone, too). It was a simple dinner, but sometimes the simplest meals are often the very best.
Happy Weekend!