The kids and I are hitting the road on Saturday--well, hitting the train tracks, actually. We're headed to the D.C. area to visit with my family. Yet again, Scott's Spring Break didn't coincide with ours, so he'll stay home with the pets and his pile of grading. I'll take mine with me (the grading, not the pets), and I'm looking forward to a stretch of a few days to sit, visit with my family, and watch my kids play with their cousins. We have an afternoon of
orienteering
planned with my brother and his kids, a trip to the
zoo
, as well as an outing to L.'s
favorite museum
in the whole world. I've
logged many travel hours
with the kids, and
posted many tips
on how to keep them busy during long car, train, or airplane trips. As my kids get older, though, it's becoming easier and easier in some ways to travel with them. This trip, for instance, T. is finally big enough to carry her own backpack as a carry-on. I'll fill it with light things like a new coloring book, and a pack of crayons, and a stuffed animal or two. I think the days are gone when I have to travel bowed down like a pack horse with a backpack bursting at the seams. But gone, too, are the days when play-doh and new Matchbox cars entertained L. for hours. Now a pre-trip visit to the library is a must for us, so we can stock up on Hardy Boys and books on aviation. What else is going with us in our backpacks, you ask?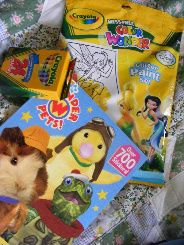 Have you discovered the
Wonder Pets
yet? I haven't shown T. the coloring/sticker book, or the Color Wonder set. I always pack at least one surprise for the trip, and this is the one for T.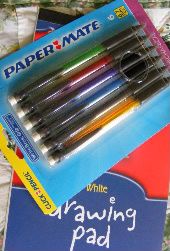 This is L.'s surprise--a sketch book and mechanical pencils. Last train trip he spent an hour and a half designing innovative modes of transportation for a planned city he dreamed up.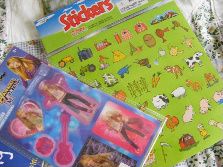 You've GOT to love the dollar section at Target for stickers. They keep little hands busy on trips.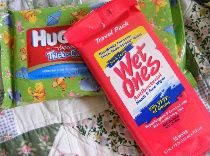 Never, ever, travel without lots of wipes. Train toilets are yucky, as are airplane ones, and rest stop ones.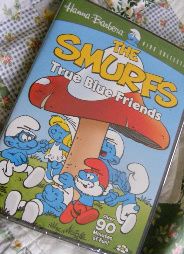 Look what I found for $7.99! I always let the kids watch one DVD on a train trip, so I know we have at least a 60 minute block to sit and "rest". I can't believe I found the Smurfs--I might have to watch this one myself.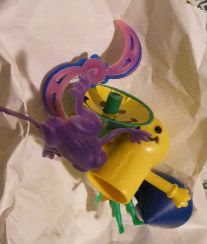 Do you always wonder what to do with all those pesky goody bag party favors your kids bring home from birthday parties? I stash them in a larger bag in my closet and when it comes time to pack for a trip, I pack a "grab bag" filled with them. They're cheap, entertaining, and if they fall under the seat in front of you and get lost, it's okay. Note: What we're NOT packing--Legos. I once spent a tearful (I was the one in tears) 30 minutes rooting around under the seat in front of me trying to locate a tiny but critical piece of a space ship L. constructed. Did I find it? No. But I vowed never to ever bring Legos on the train again. We're also not packing
this stuff
, which I thought would be neat for T. last trip, but which ended up all over the floor. I don't think even T.'s charms won the train attendant over when he saw the mess. Wish us luck! I'll be back on Monday, with tales of our adventures...
Happy Weekend!