For those of you who may really not be up to speed on all things
Clone Wars
, tonight is the one-hour season finale. There is no way we could forget this fact at our house, because L. has been reminding us about it for weeks now. I have a love-hate sort of relationship with the show. I feel indebted to it in some ways: I had always wished that L.'s very eclectic interests could, for once, intersect just a little with those of his peers, and
Star Wars
and
Clone Wars
opened up a door to a social world he had stood on the outside of for many years. Yet we have also been struggling with limiting L.'s screen time at home--I much preferred, in a way, when L.'s life centered around office supplies and he spent many happy hours in his room organizing and using his supplies. Over the course of this past year, my nine-year old has developed what can only be called a media addiction. I didn't even
know
this term existed until I went to an amazing talk at one of our monthly AS Support Group meetings. And
yes!
a media addiction to
Clone Wars
is definitely what L. has. We have managed, through the use of lots of schedules and timers to get his computer time down to a more acceptable level, but we have to stay on top of the schedules constantly, and it can wear a person out. This is not an easy battle--not in the least--and things have gotten ugly in the process. Despite all this, we really do look forward every week to watching a new
Clone Wars
episode with L. This is a big thing for him: staying up a little later than normal, watching TV downstairs in the "grownup" room. And we look forward to spending this special one-on-one time with him. I've even gotten into the tradition of preparing a special dessert for
Clone Wars
night and, of course, because tonight is the season finale, I had to pull out all the stops. Figuring out dessert around our house isn't easy. T. doesn't like vanilla ice cream and L. ONLY likes vanilla ice cream. He doesn't do "messy" desserts like crumbly cake, or things with too much icing. He's not a huge cookie fan, and he doesn't much like chocolate, but T. loves chocolate. Both kids love sorbets--in any flavor. There's something happy and sunny about sorbets--especially the store-bought rainbow kind. Of course, you could make your own sorbet, too, if you weren't in the middle of slogging through some 50 final research papers, that is. So I settled on a recipe form one of my favorite cookbooks:
Mollie Katzen's Vegetable Heaven
. I cook so many main-meal dishes out of her book that I often forget she has a delicious selection of dessert recipes at the back of her book!
Rainbow Sorbet Pie
adapted from Katzen's Rainbow Torte recipe
Here's what you'll need: Approx. 2 cups crushed cookies, or graham cracker crumbs. We happened to have a bakery package of those super-crumbly Italian cookies that look so good in the grocery store but then you bring them home and they all taste...the same. I crumbled up 1 1/2 cups of those, and then used crushed graham cracker crumbs for the rest. 6 tablespoons melted butter Approx. 3 pints/small tubs frozen sorbet Preheat the oven to 350. Pull out tubs of sorbet and let them soften at room temperature. Combine crumbs and butter in a medium-sized bowl, and press mixture into the bottom of a springform pan. Bake crust for 10 minutes, and then cool. Spread one layer of one flavor of sorbet over the cooled crust. Top with another layer of another flavor, and so on. You can make the pie as high as you like or just stick with two layers. When you're done, cover with saran wrap and let chill for at least 4 hours, or until firm. You can serve with whipped cream, or chopped up fruit, or even lightly toasted almonds, or just as it is, the way my kids like it.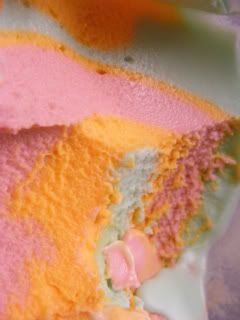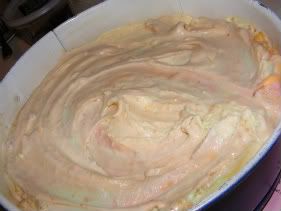 *********** Do you have Derby plans on Saturday? Last year I made
this dreamy Derby Day Pie
, and T. and I whipped up a batch of virgin mint juleps--some ended up on the floor, of course, but the end results were well worth the rocky start.
Happy Derby Day and Happy Weekend!