Memorial Weekend is all about travel for some families. Around here, lots of people pack up on Thursday or Friday and flee to the beach--where everybody else is, of course. And while I always feel that tug to dig my heels into the sand every day of the summer, I didn't feel it at all this weekend. I craved, body and soul, a quiet weekend at home. I craved sleeping in, and two cups of coffee on the back porch. I craved the gift of time--time to enjoy my kids, time to reconnect with Scott, time to just breathe a little after the crazy busy past two weeks. Lucky for me, my parents came to see
us
. We had the perfect weekend. There was lots of this: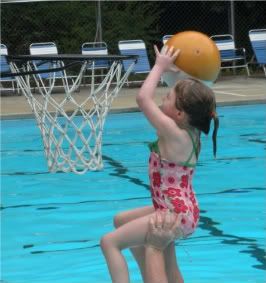 And this: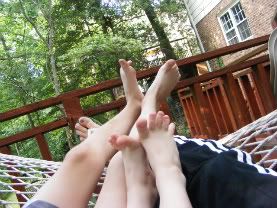 I ordered
my new computer
and I read
an entire book
. On Sunday, Scott and I grilled for dinner. What can a vegetarian family grill, you might ask? Lots. We like to make veggie kabobs, and the Morningstar Farms veggie burgers are amazingly good on the grill. We wrap corn in packets of foil filled with butter and salt, and roasted potatoes are always a favorite. Unfortunately, we could not do anything special grill-wise with L.'s now fairly standard bowl of cereal for dinner, but he did have a heaping plate of watermelon. I also stuffed some jalapeno peppers to roast on the grill.
I've been wanting to try these for some time, and after finding way too many conflicting recipes on the internet, I made up my own recipe for the filling. I like spicy food. I didn't always, but over the years I have come to appreciate food with a real kick to it. However, these peppers had a little too much kick for me. I could only manage to eat one, and that was by washing it down a) with a cold beer and then b) a large glass of water. Even Scott, the professed lover of all things extra spicy, could only manage to eat two. BUT! if you love spicy food, or if you want to serve these as a challenge to guests, I think they are definitely worth it. The flavor was amazing, and I wish I knew some way to cut the heat a little (suggestions, anyone?). However, the filling I whipped up to stuff the peppers proved to be perfect as a dip, and really delicious when I spread it across my roasted potato. Here's the recipe (and I winged this, so the proportions may not be exact):
Roasted Jalapenos on the Grill
One package cream cheese, softened to room temperature. 1 cup salsa 1 cup cooked corn kernels. 1 cup diced Spanish olives Mix it all together until it's smooth. I also added a dash of some taco seasoning I had. And I had bought a handful of fresh cilantro and then forgot to add it. But I'm sure some of that would have been a wonderful addition. If your peppers are big enough, you can stuff them with a small spoon. Otherwise, after you remove the tops and the seeds, slit each pepper once along the side and fill. I tried to get all the seeds out, but they were still really, really spicy. Wrap the peppers up in foil and roast on the grill until they get all juicy and the skins brown and soften. The mixture I made for the filling was enough to fill ten peppers, with a nicely sized bowl left over for dipping and spreading on the potatoes. Serve with lots, and lots, of cold drinks and--perhaps--a warning to all.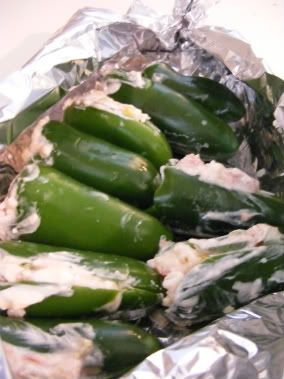 If you are having trouble viewing the pictures to this post, you can also find pepper pictures
here
, at Flickr.