Last year I came across a kit for dying eggs Ukrainian style--called Pysanky. I pondered whether to get it or not, but I decided that even though I wanted to dye eggs that way, T. was probably a tad too young for it, and I wasn't sure if L. was interested enough. This year, though, I ordered a kit and I've been so excited to try it out. L. has also been interested in all things Ukrainian, since two Ukrainian boys just joined his 5th grade class half-way through the school year. This connection, apparently, is all it takes to get L. interested in a craft.
If you're not familiar with Pysanky, it involves melted beeswax, patience, and a burning candle. If your kids are too small for any of those things, you might want to wait until they are a little older.
T. was just the right age this year, although I think she is still a little too young to be able to draw too many intricate designs on her eggs. She helped mix the dye, which is pretty potent--beware!--much more so than the regular pastel dye you get in the grocery store kits.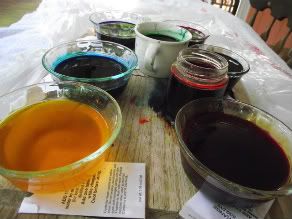 The idea is you use a special little tool called a kistka (a type of stylus) with a tiny metal cup on the end. You scoop beeswax into the kistka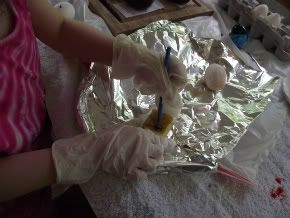 and hold it over the candle flame until it's melted. Then you can draw designs onto your egg with the hot beeswax.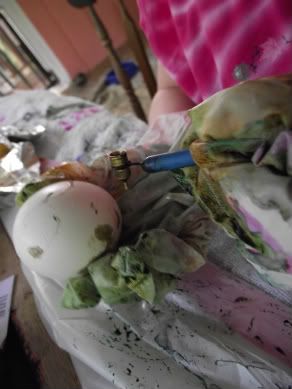 Once you dip the egg into the dye, all the areas of the egg that are covered in beeswax won't hold the dye. You can then wipe the egg, or let it dry, draw more designs with wax, and dip again. This way you can get multiple colored designs across your egg.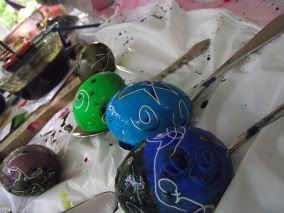 We had so much fun doing this. I think this will definitely be a new tradition for us. Next year I'm going to try and find one of those little mini bellows things for blowing out the egg yolk, since doing it myself, the old-fashioned way, wasn't much fun. Pysanky is a pretty time-consuming activity--but in all the good ways. I can't even describe how magical it was to dip the eggs and discover all the new layers of colors emerge. I"m not sure who squealed in delight more--T., or the 41-year old grown-up mama who was "helping" her with the eggs.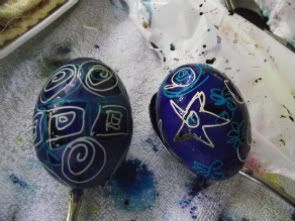 Have a wonderful holiday weekend!