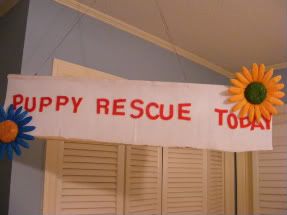 T.'s Puppy Party was a success! I think it has to go down as one of the most fun parties we've ever planned together, and it was pretty stress-free and smooth on party day as well. As with all parties, some of the preparations weren't without hitches. The recipe I used for the dog-themed cookies T. and I made for her class on Wednesday just wouldn't work for me on the morning of her party. I mixed TWO batches of the dough and each time it came out too "buttery" and I couldn't cut out the cookies. As it turned out, I think the problem was that the recipe called for whipped Earth Balance and I used regular. This is the only thing I can think of that I did differently, and by the time it was clear that the second batch was going to be a flop I was so fed up with it all that I scrapped the whole cookie plan (after cursing to myself while scraping soft dough from all over my hands and fingers) and focused on the cupcakes instead.
I was going to try and make these cute cocker-poodle face cupcakes but piping frosting onto the top in little dog fur curls turned out to be too much for me. Maybe if I had started it all days before, I might have finished 14 cupcakes in time for the party but, really, who has time for that? Instead I decided to make my own design, and i used the old-fashioned knife-spreading technique--which has never yet failed me.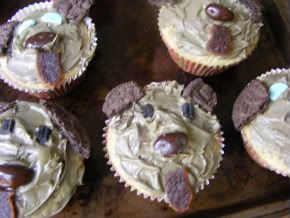 I used a chocolate-covered raisins for the noses, licorice snips for the eyes (some of them have candy pastilles broken in half for the eyes because I was worried some kids--like T.--wouldn't like licorice), pieces of Oreo cookies for the ears, and the tongues are made from fruit leather strips. I used a mix of coloring to make the tan frosting, but I think they'd be fine as plain white puppy faces as well. I might be biased, but I think they're pretty cute.
To make the paw-print cake I baked one large round cake, and four small cakes for the "toes" of the paw-print. T. doesn't like frosting, and had requested a cake without it, but I talked her into a light chocolate glaze over the top. I used the Naturally Nora mix (two boxes) and I made the cake vegan by using egg replacer instead of the eggs, and unsweetened coconut milk. I had counted on two boxes of the mix being enough for everything, but discovered as I was pouring the batter into the pan that it was only enough for the round cake. So I mixed up batter for a six minute chocolate cake recipe from my Moosewood Collective book (you can find the recipe here)-a cake I've made lots of times. It's low-cholesterol, vegan, and a cinch to make. All cakes were pronounced delicious, and got rave reviews, in particular, from the parents at the party (chocolatey chocolate cake + grownup time to sit and talk while kids play makes for an en excellent party indeed).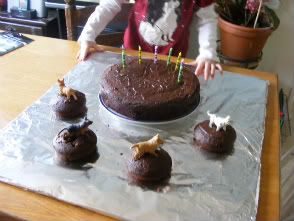 About an hour into the party we called the kids downstairs for the puppy rescue. Each child got to pick a number, and then they waited in line by the "rescue pen" for the chance to go in and find the puppy with the matching number. They were so excited and couldn't believe they would get to keep the puppy! Many of the kids kept asking me, "do we get to keep it?" and were delighted when I told them they could. After they found their puppy they headed to the craft table we'd set up in the kitchen where they set to work making beaded collars for their new puppy.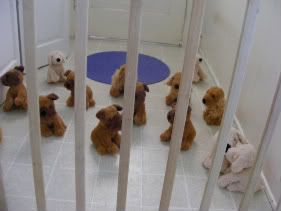 T. had designed a "Certificate of Puppy Ownership" a few days before the party and I typed it up at work, added some puppy clip art, and made enough copies. The younger kids colored the clip art on the certificate, but the older kids had a great time picking their puppy's name and carefully filling out the certificate. We didn't do party favors, since the kids got to take home a stuffed puppy and a beaded collar; in general, I always prefer to send kids home with something more lasting and tangible, rather then a plastic goodie bag filled with trinkets and candy. It was a great party, I think--good friends, good kids, and just the right mix of playtime and structure. I'm not quite ready to plan the next one yet, but I'm grateful T. and I had the chance to organize this together, and I know 14 little plush puppies who are, too.