As I mentioned in yesterday's post, on Saturday we made some feeble attempts to clean out the crawl space. The crawl space (ours is a walk-in, so no actual crawling is involved) is where we keep the bins of holiday ornaments and decorations, and the bins of baby clothes that are too precious to hand on, and the bins of toys that are too special to donate. I spent a great deal of that time fending off T. who wanted to bring up all the toys she came across. Then, in one of the bins, I spied a familiar shape: something brown and cream-colored, the fur worn down to flat nubs all over its body. Mr. Wookums!
My
Mr. Wookums! I bought him in 1988 when I worked at a college book store my first year in college. Mr./Mrs. Wookums was supposed to be cradling a baby otter in her arms, but some shoplifter had ripped the baby from the mother otter's arms and so without the real selling point of the stuffed animal, the otter was relegated to the sale table, where it sat for many days with a red discount sticker on his stomach. I always have a soft spot for hard-luck cases, and abandoned critters, so when pay day came around I bought the otter. Since then (twenty-one years ago!) he has followed me everywhere--until, of course, the kids were born, and then I lost sight of him for awhile. I think he lived on a chair in our bedroom at our first house, then something happened when we moved and he ended up in a plastic bin in the crawl space, along with way too many Little People and a plastic train. Here's Mr. Wookums on my bed in my college dorm room when I was twenty-one: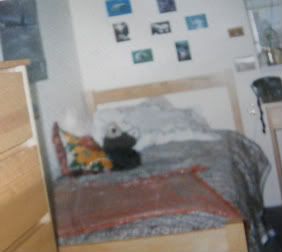 And he partied with us!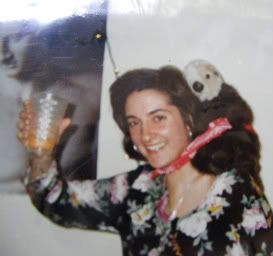 (
That's apple juice in the cup
) When I brought him up from the crawl space T. was enchanted. She carried him around most of the day, and apart from the fact that she couldn't seem to remember his name and called him Mr. Nelson instead, she seemed to truly love and appreciate his funny looking self. At bedtime I tucked him in next to her and thought about how amazing it was that this natty creature was now lying next to my real, live
daughter
--that never, in a million years had I imagined that one day I would be gently tucking him into my daughter's white bed, in her fairy yellow room, in another state, in this chaotic, wonderful, messy life. I was getting quite emotional about it, in fact--so caught up with just how fitting and marvelous it was that the stuffed animal would belong to T. now. I imagined her carting him through the years--imagined him becoming her new beloved friend. Maybe she would take him to college one day? After I tucked T. in I went into our room to fold laundry with Scott. A few minutes later T. came out of her room, looking worried. "What's wrong?" I asked her. "I can't sleep," she wailed, and tears sprang into her eyes. She led me back to her room, where Mr. Wookums lay, face down, on the floor next to her bed, a pillow over the back of his head. Why had she turned him face down?
Because he scared her
. Only then did I see Mr. Wookums from a child's perspective. He
was
a little creepy looking, with that hole where his nose was supposed to be, and his strangely-shaped body and paws. He certainly looked like he'd been dragged through the years, and attended one too many parties along the way. I tucked him away in my closet, on the top shelf. He's there if I need him, and T. has dozens and dozens of her own stuffed animals--many of which probably won't make it another twenty years. But it's up to her to choose the few that are special to her, the few that she'll drag through the years behind her, for the reasons
she
decides, not for mine.