Remember
all those peaches
we had? Even after I'd made the pie, and enjoyed several bowls of cereal with fresh peaches sliced on top, we still had lingering peaches, growing softer, and more perfumed with each passing day. Something about the peaches, and the summer, and some quiet moments on the back porch spent thinking about Greece, and missing my grandparents, conjured up a buried memory--a taste, a smell, buried in the recesses of my mind, underneath a blanket of other memories. My grandmother used to make a type of peach
granita
in the summer. I don't know how--I think she boiled the peaches with sugar, then froze the mixture to make a sweet yet tart icy delight. She called it granita, yet I know from some initial research into this dessert that granita is mostly sparkly flavored ice; her granita was a combination of ice cream and sherbet--it was smooth and tingly on the tongue, and best enjoyed on a shady veranda, with your feet propped up on the metal railings. So I had grand plans. No sooner had I remembered my grandmother's granita then I needed to make it--I
craved
it. But the fates intervened: I caught a vicious summer bug-right after T.'s bout of stomach flu. And while I would have killed for an icy, sweet bowl of my grandmother's peach granita handed to me while I lay in bed with a box of tissues (oh, my aching throat), I couldn't make it myself. By the time I felt well enough to whip up some magic in the kitchen, the peaches were gone. But we
were
left with piles of fresh melon after L.'s party. My dad had made his signature fruit salad--chunks of fresh fruit served in a hollowed out watermelon and there was plenty of watermelon and honeydew and sweet strawberries left after the party. I decided to throw it all into the blender and try my hand at a granita--a practice run of sorts, so I could make the real thing with peaches. And while it wasn't my grandmother's peach granita, and our back porch was no veranda in a shady suburban garden outside of Athens, Greece, the granita--sweet, sparkly, and cold, soothed more than just my throat.
Sweet Melon Granita
This isn't so much a recipe as it is an explanation of the process: Throw several cups of fresh chopped fruit into your blender with a little liquid--I used half water and half lemonade. I imagine you could use all kinds of things--sprite, fruit juices, soy milk. Add a couple tablespoons of sugar--again, no exact measurements here. If you want a sweeter granita, try two tablespoons; melons aren't terrifically sweet when blended, so you'll need the sugar.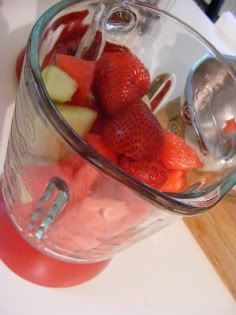 (
I blended two batches of melons and strawberries
) After you've blended the fruit, spread it into a pan and stick in your freezer.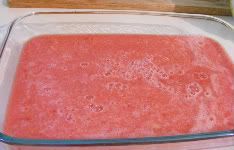 Here's the tricky part: you need to whisk the mixture every 30 minutes or so--you're going for icy crystals. It took my pan about two hours with whisking every 30 minutes to achieve the right consistency. Serve immediately in glass dishes, to show off the sparkle of the ice. If you can't serve the granita right away, it will freeze completely, which is fine--just use a large, heavy fork to scrape away at the icy mixture until you get crystals again.