A few weeks ago I was in our local Trader Joe's and I saw a display of potato gnocchi. I have to say I gave an involuntary shudder at the sight. You see, years ago, when Scott and I were living in Silver Spring, Maryland, I bought some packaged potato gnocchi at the Safeway and cooked them for a special meal for the two of us. What can I say? They made us gag. They were heavy, like wads of dimpled raw dough, and they tasted pasty, like the white rubber cement we used in elementary school. Blech. We never tried gnocchi again. In fact, gnocchi did not cross our lips for thirteen years. But just as I shuddered a little at the sight of the packaged gnocchi at Trader Joe's I found myself oddly infatuated with trying to make them. I like a challenge in the kitchen, and after researching this whole gnocchi business, and reading accounts of the perfect gnocchi--ethereal and cloud-like--I was determined to try making them myself. But the recipes are all never quite the same. Do you bake the potatoes? Boil them? Use russet potatoes, or waxy ones? Egg whites, or one whole egg? Two eggs? In the end I combined a bit of this and a bit of that from different recipes and came up with my own. Here's what you'll need:
Potato Gnocchi Redemption
3-4 russet potatoes 1 tablespoon sea salt 2-2 1/2 cups all-purpose flour 1 egg, beaten 2 tablespoons butter freshly grated parmesan or assiago cheese, to serve. Cut the potatoes into large chunks and boil, with the skins on, until they are soft and mushy when pierced with a fork. Many recipes say to bake the potatoes, but we were out of tin foil, and boiling seemed easier. Drain potatoes. Peel as soon as you possibly can without burning yourself (I found that holding the hot potato in a dish towel with one hand while peeling saved my fingers). Put a new big pot of water on to boil while you're doing these next few steps. On a floured work surface, spread out a generous layer of flour. In a bowl, mash the potatoes with a potato masher, or a ricer. If you use a masher, fluff the potatoes with a fork when you're done. Remember, you're aiming for airy.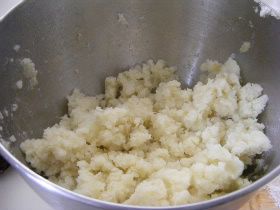 Scrape out potatoes onto the floured board. Create a well in the center of the mashed potatoes and mix in the beaten egg. Next, get your five-year old helper (if you're lucky enough to have one) to dump 2-2 1/2 cups of flour into it all--SLOWLY and in STAGES--until you have a nice, soft, light-to-the-touch dough (emphasize the SLOWLY part over and over again to your helper
before
you give them the flour scoop). What you want is just enough flour to take away the stickiness, but not so much that the dough becomes stiff. You should be able to feel when the dough is ready--it really will feel light and perfect.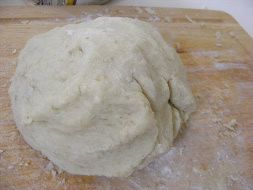 Divide the dough into three or four parts. On a floured board, roll each part into a thin snake (T. loved this part), about 3/4 inch in diameter. Cut the "snakes" crosswise into little pieces:
Next, holding a table fork with prongs facing down, press and roll the gnocchi gently on the tines of the fork, making ridges on one side and a depression along the other.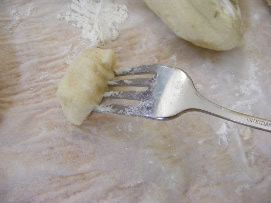 I kept my gnocchi on waxed paper until I was all done, and ready to drop them in. Make sure you have everything ready to go for dinner, and that your kids have dutifully set the table
before
you start cooking them (the gnocchi, not the kids) in the water, because they only need about 3-4 minutes to cook, and they're best served warm. While the water was boiling we threw together a quick Mediterranean salad with Kalamata olives,
bocconcini
, and tomatoes, with olive oil and balsamic drizzled on top.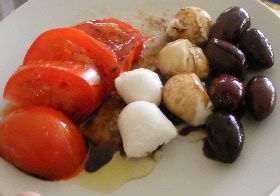 Gnocchi are done when they rise to the top, and this should only take about 3 minutes--take them out with a slotted spoon. Serve them warm, dotted with butter and freshly grated cheese. You can also serve them with tomato sauce, or pesto sauce, but I personally think butter and cheese is the way to go.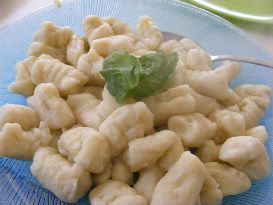 Oh--and you'll need some crusty bread for mopping up all the delicious buttery/oily cheese sauce when you're done.