Remember our portable feasts from last summer? We're back in action again this summer. Friday night friends and neighbors unveiled an amazing array of different foods at the pool, which we spread out across the top of one wagon, one cooler, and a pool lounge chair. There were mini spanakopita pies, fresh spring rolls (courtesy of my kitchen), an amazing pasta salad tossed with heirloom tomatoes and tiny chunks of pickled okra, Greek yogurt and cucumber dip, and a guacamole to die for (with feta cheese and fresh lime juice--a combination I'd never tried before), fresh bread, peaches, watermelon, and hummus. I sat there, the weight of the week slipping away, and thought for what will probably be the first of at least a hundred times this summer, how much I love my neighborhood, our friends, and the summer.
Fresh spring rolls are one of favorite summer/poolside picnic foods. I love these, and rarely find them at any restaurants, since most places offer up the fried variety instead. (Don't get me wrong, I love a good fried spring roll, but in the summer who wants to fry?) There's a great Vietnamese place in town that serves fresh spring rolls, and back in our graduate school days this place, one of our favorite dinner haunts, served up an amazing, delectable spring roll, complete with fresh basil tucked inside and a crunchy, tangy brown sauce on the side for dipping.
You can find rice wrappers at many grocery stores, and Asian markets. The package might look like this: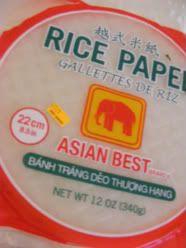 We used hoisin sauce for the dipping, but you can probably make your own peanut sauce, or use plum sauce as well. If you don't have access to an Asian market you can make these spring rolls into lettuce wraps. Just use a nice wide lettuce leaf, like Boston lettuce or Romaine, add the filling to one end, and roll up. If you can't find the exact sauce, you can also serve the rolls or wraps with soy sauce or a lighter plum sauce.
Here's what you can stuff your rolls with: carrots, cucumbers, snow peas, spinach leaves, bean sprouts, and a hearty handful of fresh basil leaves from your herb garden, if you're lucky enough to have one. I've had spring rolls with cilantro inside, too, but basil to me is the perfect filler. The main work in assembling these is chopping everything up into long strips, or matchsticks. But don't be daunted! It's relaxing to chop up veggies, and your little helper can arrange them into piles according to vegetable if you want to keep them busy while you chop.
I also boiled some rice noodles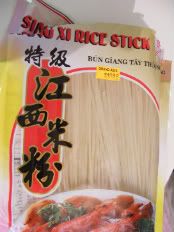 And included a handful of these in with the veggies.
Follow the directions on the rice wrapper package--you need to soak the rice wrappers for 3-5 seconds in warm water. I doubled up the wrappers for each roll, since they are so thin just one tended to rip when I wrapped up the veggies.
Put a pile of filling on one end of the wrapper and roll up firmly, burrito style. Chill them for about 30 minutes before serving, and they firm up nicely in the fridge.