All weekend long our house was filled with family, and I just loved it. While I do like our quiet weekends and our just-the-four-of-us time, a part of me longs to have our house filled with family on a more constant basis. I like to entertain. I like to see the kids play with their grandparents. I like to cook for lots of people and have a packed dinner table, family sitting elbow-to-elbow, and lots of laughter and stories and lively discussions. Being so far away from our families makes the comings and goings so difficult. One minute, it seems, the house is packed and noisy; the next we're waving good-bye from the front porch and the kids start roaming around, looking a little lost and deflated, like little halves of themselves. But we'll wait for the next time the grandparents come into town again--the flip side to all the "goings" we've lived through as a family is that there will always be "comings" to follow, if we only wait a little while. L.'s birthday party, our first ever pool party, was a great success. It stormed magnificently the night before and on Saturday the air was heavy and thick, the clouds a little too gray for my liking. But by 9:00 the weather had cleared and the sun popped out, shining through the clouds in spots and making everything seem a little more promising, weather-wise. By 10:00 we had everything ready to take down to the pool: plastic tablecloths, cups, plates, party favors, coolers, and food. We were ordering pizza, per the birthday boy's request, but I brought lots of chips and hummus dips from Trader Joe's, and my dad made his signature watermelon basket fruit salad (much
like this one
, but without the lemon garnishes and the zig-zagging edges). The fruit salad was a huge hit--there's nothing quite like berries and melon by the pool on a hot and humid day. For the party favors, I bought six small cloth tote bags in different primary colors from Michael's at $1.29/bag, which was really quite a steal. Then we bought some iron-on transfer paper, went home, copied some Playmobil pictures from the online catalog, pasted them into Microsoft Word, and printed them out on the iron-on transfer paper.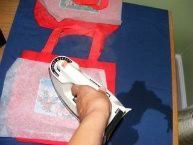 (Note: When you do the ironing part, DON'T do as I did--I used an heirloom wooden chest as my ironing board, creating a dark singed spot that I then had to spend hours scrubbing out of the wood with Liquid Gold the next day.) We filled the bags with gummy Lifesavers, a small tube of sunscreen (I found those in the $1.00 sample section of the grocery store), and bubbles. Because the bags were so colorful, they added an immediate festive air to the tables. And, because we only had to do six of them, it wasn't too costly or difficult. This is what the table looked like: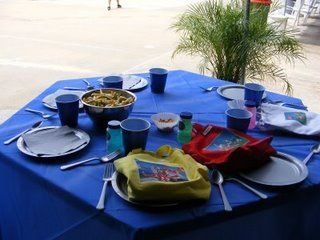 L. had very specific ideas about who was to sit where. So there were two cousins at one table, then L. by himself at the center table, then three more at another table. But, all in all, everything went smoothly, with no major upsets. We did learn this year that the simpler we make the party--with no complicated organized games designed by L. himself (he has a difficult time when the games don't go exactly as he envisioned them) and a low-key, no-stress atmosphere, then the odds of smooth sailing all around are much greater. And I think L. had a wonderful time, I really do--all eight years of him. On the day of L.'s birthday he woke me up at 6:50 in the morning. "Aren't you going to tell me Happy Birthday?" he asked. And I did, a few times over, pulling him close--that wriggly, all-arms-and-legs new eight-year-old boy of mine.