I've made it no secret that
I love planning parties
. I had a blast last year coming up with goody bag ideas for L.'s eighth pool/Playmobil/knight themed party, but this year was more of a challenge. He's a kid who loves the comforting predictability of sameness, and at first he spent weeks declaring that he wanted the exact same party he had last year. Exact. Right down to the goody bags. But I worked on him, little by little, and in the end he agreed to another theme:
Hardy Boys
. I love a challenge, I really do, but I knew I wouldn't find any
Hardy Boys
party favors anywhere. And the
cake
? I spent about two weeks brainstorming party ideas and doing internet searches for Hardy Boys paraphernalia. My search was also complicated somewhat by the fact the there exist, apparently, two pro wrestlers by the same name. For the record,
these
guys:
Are NOT these guys:

In the end, simplicity won out. We decided to make "detective kit" party favors. I found some simple and inexpensive thick cardboard boxes at Michaels and bought plain wooden letters or each child's initial (again, very cheap). Back at home we glued the initials onto the tops of the boxes, and filled each box with dollar store scores related to the theme: pocket first aid kits, mini flashlights, a small notebook, and a pen. For the littlest party guest we substituted a pack of crayons for the pen.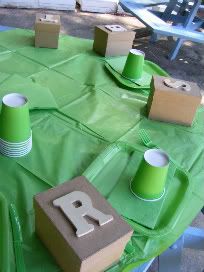 I scrapped my lofty ideas of designing my own Hardy Boys cake (T. came down with a nasty stomach bug mid-week of the party-planning) and settled instead on buying a modest sheet cake from the grocery store. I added our own decorations: plastic policemen along the edges (another dollar store find) and topped with a vintage looking police car.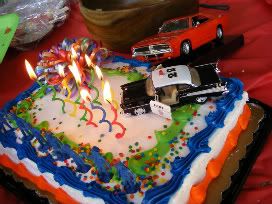 It did the trick, I think. The red car careening into the cake in the corner of the picture was supposed to be on TOP of the cake (Joe and Frank Hardy owned a sporty red jalopy--L. loves that word) but it proved to be too big, and too heavy. Maybe no one else at the gathering got the idea behind the detective kits, or the red jalopy allusion, but L. did, and in the end, pleasing the birthday boy is what it was all about.