I had such a good time cooking and baking for our Christmas party this past weekend. I tried some recipes I've been wanting to for awhile, like this one for sugared cranberries:
They were so addictively delicious, the way they popped in my mouth with a sweet-tart burst of juice! I might have eaten away at the entire bowl if I hadn't been so busy.
I love tempeh, but it has to be doctored up, in my opinion, to bring out the best of the flavors. I made my own honey-sesame glazed tempeh (mixed about a 1/2 cup of soy sauce with a 1/2 cup of honey and sesame oil and tossed the tempeh in a pan until the glaze coated. Then I sprinkled sesame seeds on top) and topped a fresh salad with the tempeh: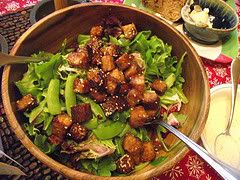 I made a tahini-lemon dressing from this site (scroll down for the dressing recipe) and it was the perfect addition to the salad and melded so well with the tempeh.
A surprising hit of the party were these Korean mochi balls I impulsively grabbed from our local Korean market the day before, when L. pleaded with me to stop there to buy some frozen lo mein noodles for his lunch. The kids loved them, and they are now my favorite dessert! I loved the chewy texture, and they so nicely satisfy the need for a dessert that's not overly sticky-sweet and calorie-laden. They go really well with a glass of mulled wine, or hot cider. Plus they are delightful looking on a plate, and since they're made with red bean paste, and rice flour and things like pumpkin sesame, you could definitely argue that they're good for you, too.
I'm posting this picture, because I forgot to take a close-up of the cider punch, which T. helped make (you can see it on the far end of the table, near the buffet). She was so proud of it! I mainly made the punch so I could have an excuse to use the vintage punch bowl set I found at an estate sale last year, but as it turned out, I'm glad I did just so T. could feel proud of her handiwork. It's a simple punch, just apple cider, a can of ginger ale, a swirl of molasses, and we topped it off with clove-studded orange slices (T.'s creation).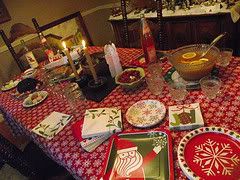 It was a beautiful feast--for the eyes, too!