If you've been waiting on the edge of your seats all weekend, dying to find out how the
litter box birthday cake
turned out (and you know you've been curious, haven't you?), then I'm afraid you'll be disappointed. I went to the store on Friday and bought the supplies--two packages of cream sandwiches cookies I never keep stocked in the house (as it turns out, the kids think they are the best cookies ever--who knew?), a bag of tootsie rolls, vanilla pudding, etc. and just as I was about to get started with recipe L. wandered into the kitchen. "I'm making your cake!" I told him. "You know, I've been thinking," L. said. "Could you make TWO cakes? One litter box cake, and one regular one?" Um,
no
. "I really don't want to make two cakes, L.," I told him. Then the lightbulb went off. "You don't
want
the litter box cake, do you?" I asked (really, who would?). And, he didn't. It was too gross. He wouldn't eat any of it, he told me, and he really wanted to eat some of his birthday cake. I wasn't surprised, really, given L.'s sensitivities to all things food-related, and in the end, it was a whole lot easier to
make a regular cake
. I had already bought three charming wooden cats, with tails held high, and they worked fine parading across the top of the cake, instead of jammed inside a gift bag.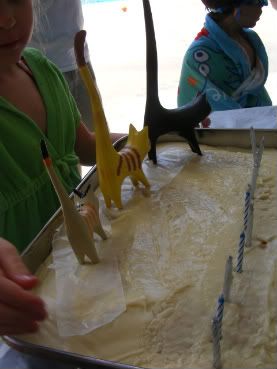 We went a little overboard with cat party stuff, but I couldn't resist
the little cat picks
, or
the napkins
L. picked out. As happens every year, L. stayed out of the pool, and spent the birthday party pacing around, organizing the party decorations, catching stray napkins blown away by the wind, readin
g his birthday books
, and enjoying the chance to survey the party unfolding from the safety of his perch behind the pool's tiki bar stand. But this year--this year he seemed a little different--relaxed, his mood clear and cloudless like the blue sky above the pool. Floating on my back, I watched him from the pool water and caught him organizing the line of cats, setting up a parade across the tiki bar's counter. I thought: he's grown up so much this past year--a year not without its own particular brand of challenges, but a
good
year. It couldn't have been a better day, really.