Last week I mentioned that while T. and I were engaged in our
Thumbelina diorama making
, L. set to work drawing dozens of clone troopers on a long stretch of easel paper. This was one project we could undertake, at least. In the past few weeks he's had a handful of very ambitious ideas—including construction of a life-sized battle droid. He found
this website
, and apparently people DO spend their time on such endeavors. I wish we could roll up our sleeves and help L. build done of his own but, honestly, just the thought of finding the parts overwhelmed me. Over the past two weeks I've managed to talk him down from building a life-sized replica of a
Republic battle cruiser
out of paper mache (or papier-mâché) to building a reasonable model—large enough so he could put some clone troopers inside and stage some combat scenes. "I can DO this," I told myself in pep-talk manner. I actually pride myself in being pretty skilled in the paper mache department. After all, three years ago I helped L. design and build a replica of a DC metro tunnel, complete with cardboard metro train, and small tunnel signs glued to the interior.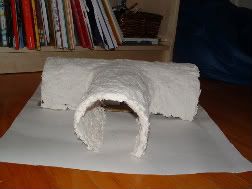 It still sits in our garage, where it might remain until the end of time. Two years ago, when L. was in the throes of a full-blown obsession about space, we made a paper-mache sputnik model. We hung it from the ceiling of our screened-in porch until it disintegrated. The fatal flaw, I think, was that I built the paper mache over a rubber ball and hadn't accounted for the ball shrinking over time.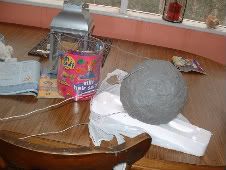 So when L. asked me this past weekend if we could build a model of a Republic attack ship, I took a deep breath and said yes. We didn't have hours of time at our disposal, though, and since we found ourselves near the craft store on another errand, I bought some quick paper mache strips ($9.99) and a metal form ($4.99) we could shape our battle cruiser any way we wanted to.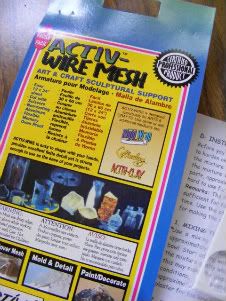 The main trick with any paper mache project is to get the shape/form exactly the way you want it
before
you start sticking wet strips all over it. L. drew an intricate schematic of what the Republic looked like but I just couldn't get the concept. He wanted only half of the ship, so he could have that "cutaway" effect and put some action figures inside. I gave him a pair of gardening gloves (the wire is sharp—watch out) and let him do the shaping and cutting himself, which he did just fine. As in previous paper mache projects, L. refuses to actually get his hands dirty/wet with the stuff. It's gloppy and feels weird, and he prefers the "back seat" approach: dishing out directions to me as I work. I was impressed with the paper mache strips—I just dipped them in warm water and they were ready to place. After what felt like an eternity the Republic was done, and ready to dry, and we left for the park so the paper mace could set. When we got home L. pronounced it thoroughly dry and whisked it straight upstairs to his room. I was busy with dinner preparations, so I didn't too much about the model until some time later, when I was getting T. ready for her bath. All of a sudden, in between T. singing a song about fairies and the splashing of the bath water, I heard a shredding sound coming from L.'s room--the type of wet, shredding sound that never means anything good is happening. I knew at once what it was. The memory of the traumatic destruction of a clay model of Cape Canaveral by the dog had been burned in my memory years ago. There is nothing quite like the feeling of having spent hours meeting the very particular and dictatorial artistic demands of a six-year old space-infatuated boy by helping him created a pretty authentic looking clay replica of Cape Canaveral only to have it destroyed in mere seconds by the family dog. Of course, spending hours acquiring the supplies and creating a paper mache replica of a Republic attack ship complete with bridge and dagger-like profile only to have it ripped to shreds in seconds by the family dog is not such a forgettable experience, either. But L. handled it remarkably well--too well, I think. I banished the dog to the screened-in porch for thirty minutes while I cleaned up the tattered remains of all that work, and Scott and scrubbed the remains of paper mache out of the wood floor. I didn't even have time to take pictures of the ill-fated ship; it lives in our memories for now. L. already has big plans brewing for a bigger and better one--with cargo doors, possibly, and perhaps...just perhaps, we could even build a tiny paper mache cargo ship to put inside?