Having a new five-year-old means lots of things: worrying about kindergarten, monitoring early-learning skills, watching your preschooler bloom into a elementary-school kid right before your eyes, and slowly but surely loosening your grip on those early childhood years and getting used to a new "normal"--new relationships with your child, new challenges, new triumphs. But it also means that it's time for that dreaded five-year checkup. I vividly remember L.'s 18-month checkup and rejoicing in the news that he was done with shots until he turned five. This was glorious news indeed, because no one likes holding down their child and listening to him scream in terror and indignation; no parent likes to feel as though they've betrayed their child's trust. I remember thinking to myself, as I walked out of the doctor's office with L.'s little hand in mine, that five seemed so very far away--so very gloriously far away. And then, of course, I blinked, and suddenly we were right up against the five-year appointment for L. and dazedly wondering how we got there--how my firstborn got to be really and truly FIVE YEARS OLD. And, more importantly, how were we going to make it through THOSE SHOTS? We did though, in the end. We kept whispering the promise of a new Playmobil toy into L.'s ear the whole time that nurse injected him. We spoiled him that day, because going to your five-year checkup is a big deal, and a time to celebrate with a trip to the doughnut shop, if ever there was one. Somehow, I blinked again, and we found ourselves right up against T.'s big five-year appointment this week, and the same dazed feelings circled around us all week long. Somehow, too, having lived through it once with L., we didn't worry quite so much about it this time around. T.'s doctor checked her vision and hearing, and ran her through counting some numbers and the alphabet. She asked questions about T'.s diet and her teeth (and yes, she told us, cavities in baby teeth really DO have to be fixed,
just as Dr. D. told us
). T. had a finger prick to check for iron levels, and she thought giving a urine sample was just the most fun ever (only a child would find THAT exciting). And, those shots--T. was just about as brave as it gets and didn't shed one tear during the whole thing. She barely broke 30 pounds at long last, and finally made it onto the charts for weight, where she sits proudly in the 5th percentile. Ice cream and a trip to pick out a new stuffed animal were, as it turned out, the perfect ways to celebrate a big day like that one. When I asked T. about the experience later, she drew herself up proudly and proclaimed that she was the biggest and bravest girl ever. She might be tiny, but she sure is
big
now.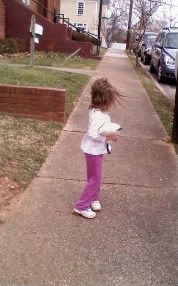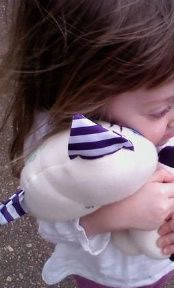 Happy Weekend
!