This was the quintessential sort of fall weekend, I think. The leaves are just starting to turn, and we have all our Halloween decorations out. My thoughts have been turning to apple cider and roasted pumpkin seeds and all things orange (I made carrot soup last night, too--I'll post the recipe later in the week if it's a good one). We finished putting up the last of the decorations yesterday. As an after-thought I stuck a witch's hat on the candelabra we have in the corner of the dining room. T. laughed in delight when she saw it, and then she ran off to the kitchen for some paper, scissors and a pencil. I heard her in the dining room, giggling and talking to herself. When she was done she called me in to see.
She'd turned the be-hatted candelabra into a witch! 
"It's our own dining room witch," she said. I think out of all our Halloween decorations, it is now my absolute favorite one.
***********************
I've had a hankering for the dried fruit and nut bars I used to make out of this book, back when the kids were younger. I went to dig up the cookbook this weekend, and remembered that I lent it to my sister. (I don't want it back E., if you happen to be reading this.) It made me smile to think about how my little nephew is now eating some solid foods, and how my well-thumbed book might be helping my sister with this transition. I did want those fruit and nut bars, though, so I scouted around some of my favorite recipe sites and found this recipe, which I thought sounded simliar to the one I had used before. I tinkered with it a little--substituting Ener-G egg replacer for the flax egg, and using a pre-diced assortment of dried fruits for the sake of quick prep time. I also added about 1/2 cup of vegan chocolate chips, because it seemed the combination of dried fruits and walnuts just begged for a taste of dark chocolate here and there. I followed the original measurements but when it came time to spread the batter into the pan it didn't seem enough. I went back and mixed another batch and the two combined covered the pan well and baked up well as bars. The recipe below includes the doubled measurements.
As it turned out, the bars weren't really like the ones I used to make, but they turned out amazingly delicious-chewy and nutty and more like the perfet granola bar without the hard crunch. You have to cut them up into squares and put them away immediately; otherwise you will find yourself breaking off piece after piece each time you walk past the stove--they are that good.
The Other Fruit and Nut Bars (Adapted from here)
2/3 cup all-purpose flour
1/4 tsp baking soda
1/4 tsp baking powder
1/4 tsp sea salt
1 tsp cinnamon
2/3 cup brown sugar
2 cups toasted walnuts, chopped (I toasted mine in the preheated oven for about 7 minutes)
1 1/2 cups diced dried fruit
Ener-G egg replacer (for 2 eggs)
2 tbsp almond milk
1 tsp pure vanilla extract
1/2 cup vegan chocolate chips
Preheat oven to 325F. Line a square pan (8 or 9 inch) with parchment paper, or lightly spray the pan with oil.
In a small bowl mix together the Ener-G egg replacer and set aside.
In a large bowl, whisk together the flour, baking soda, sugar, baking powder, cinnamon, and salt. Stir in the toasted walnuts, dried fruit, and vegan chocolate chips. Add vanilla extract and almond milk into Ener-G egg replacer. Stir thoroughly to make sure that everything is coated well.
Press into the pan so the top is flat and even.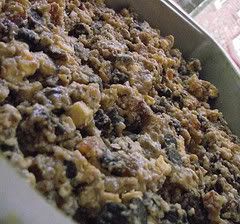 Bake for about 33-35 minutes at 325 until golden in color. Remove from pan and allow to cool on wire rack for 10 minutes. If you want to eat these soon after baking, you might need to place the pan into the freezer for about 15 minutes or so in order to set well. Mine were fine to cut, though, after about 10 minutes on the counter. No one at my house seemed to mind the oozy chocolate and warm nuts.