I hope this Monday morning finds everyone in Irene's path safe and sound. We spent Sunday playing "pick up sticks" with the kids outside in the front and back yards (until poor Scott got swarmed by angry yellow jackets). We didn't lose any trees, thank goodness, but several large branches came down and the yards were littered with sticks and leaves and all kinds of storm-related debris blown from the tops of the tall trees-including those poor displaced wasps, who were probably wondering what happened to their safe tree-top home. I love our neighborhood, and the old trees surrounding our house, but the sight of the tall pines bending and whipping back and forth in the wind was pretty scary. On Sunday we awoke to a different world: birds chirping outside, chain-saws firing up, sun coming in through the window blinds. The day seemed washed clean and new again--it was such a transformation from Saturday's stormy weather.
We spent most of the day indoors on Saturday, and I spent the morning baking and cooking, because I was worried we'd lose power. We made "hurriane soft pretzels" and a big pot of vegetarian chile, and a pot of brown rice. Being housebound was also a great chance to let T. do some of her own baking.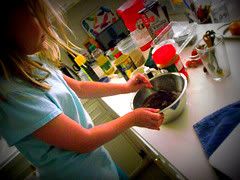 I have learned, over the years, to let T. "run free" in the kitchen (with some supervision, of course)--I sometimes have to swallow down my impatience, or my need to control the mess, because I know that getting messy is a part of getting creative, especially with food. Even with the flour poofing up everywhere, and some inevitable spills here and there, I am wise enough after 11 years of parenting under my belt to know that these days in the kitchen with my daughter are memories being spun right in front of my eyes--that years from now she'll be sixteen or eighteen and off into the world with scarcely a backward glance and I'll miss, with such a fierce ache, the sight of her nose smudged with chocolate, and her still-dimpled fingers, coated with sticky dough, and her long legs, folded against my kitchen counter.
When we made our soft pretzels on Saturday, I gave T. a hunk of the dough and she turned it into a pizza--shaped not unlike a long sock. She added some garlic powder to the dough, spread the top with tomatoe sauce, and sprinkled mozarella cheese across the top. I often make homemade pizza, but it never occurred to me to let the kids make their own mini pizzas--from shaping the dough, to adding their own toppings.
Later in the day, craving some warm and chocolately dessert to top off our spicy chiie dinner, I gave T. the recipe for a one-minute chocolate cake and we adapted it to make it even creamier, more chocolately, with a hint of peanut butter swirled inside. This recipe is perfect anytime you crave dessert, yet don't have a single piece of cake, or brownie, or anything cake-like in the house, and it's too late, or you can't be bothered to make an entire chocolate cake for yourself. It bakes, literally, in one minute, in the microwave. It's also the perfect recipe to let your older child make on her own. And, it's vegan. And it's a "cakelet" so you don't have to feel guilty about eating an entire hunk of cake by yourself--although you certainly shouldn't waste too much time feeling guilty about that--life is, after all, way too short.
One Minute Vegan Chocolate Cakelet (adapted from here)
2 tablespoons flour
1 tablespoons sugar 
1/4 teaspoonbaking powder
2 teaspoons cocoa powder
2 tablespoons vanilla soy milk (or any non-dairy milk)
1/4 teaspoon vanila extract
3/4 teaspoon oil
1 teaspoon peanut butter (optional, and add right before baking)
1/2 tablespoon vegan chocolate chips
Mix all dry ingredients in a small bowl. Add the soy milk, vanilla extract and oil and mix with a spoon until well blended. Spray a 10 to 12 ounce microwave-safe cup (T. used a large coffee mug, but you could also use one of those large-sized glass pyrex dessert cups) with cooking spray. Pour the batter into the cup. Swirl in the peanut butter. Top with the chocolate chips. Microwave at full power for 1 minute. Mine was done after the minute, but if your microwave isn't too powerful, and the cake is still like batter after one minute, you might have to microwave again for another 15 seconds. The chocolate chips will melt and spread deliciously over the top. When done you could also top with a sprinkle of chopped nuts, non-dairy whipped cream, cherries, or anything else that you crave.
T. and I loved the cake with just the melted chips, but I could definitely see adding some vanila soy cream, or non-dairy whipped cream over the top. We were making such loud yummy noises about it at the kitchen table that L. came springing out of the office and asked if we could make him one, too.
Make yourself one tonight--it could be the perfect way to sweeten a Monday evening.
Good things come to those who wait--even if just for one minute