Yesterday I dutifully got up when my alarm rang (I didn't even hit the snooze button once), showered, got dressed, and headed downstairs to tackle making T.'s school lunch. At the bottom of the stairs I paused, and peeked into the dining room. I sighed heavily to myself when I saw the bare spot in the corner, where the tree had stood for so many weeks. I sighed so much inside that I did something impulsive: I opened up the Rubbermaid bin (still out by the door waiting for Scott to take down into the crawl space) and I pulled out the little artificial tree we used to have in our New York apartment. It's only about 2 feet high, but we light it every year. I put it in the corner of the dining room where the big tree had been and I plugged in the lights. I stood there in the early morning quiet of the house, Annie-cat twining around my ankles, and soaked up the sparkle of color against the blank wall. If I closed my eyes a little, and tilted my head just right, I could almost pretend the big tree was still up, and any minute now T. would come running downstairs, her little voice proclaiming "It's the first of December!" as she rushes to open up that first tiny window on the advent calendar.
I'll get past this all, I know I will--I promise this will be my last post-holiday, melancholy post. Soon I'll find myself caught up in an unyielding flurry of work and grading and school-stress; middle school decisions, homework battles, and all the messy and wonderful ups and downs of daily, ordinary life. I don't know why I'm having such a hard time letting go of the holidays this year. I don't remember it being this difficult last year, or maybe it was? But I do know that most years it almost feels good to pack away the Christmas ornaments and decorations, to reclaim the top of the buffet, to vacuum up every last needle (who knew an artificial tree could shed so?) and to move on to the next exciting big thing. But this year I didn't feel the relief. The kids disappeared when it was time to take the tree down and I pulled at the lights, cranky at the tangled strings, and my eyes watered uncontrollaby when I put away the pregnant snowman ornament, and when I wrapped up T.'s ice skate, and L.'s funny reindeer-with-his-face-on it ornnament from his last year of preschool. Maybe this year's dismantling of Christmas has caught me at a vulnerable, funk-filled time. Maybe I'm just feeling older. Maybe too much has changed, too quickly, and--I've had it--I'm ready to dig my heels in, slow down time, urge to pause for just one more minute, because I'm not ready yet for the next big thing.
****************
We have the tradition every year of writing a little note to Christmas to pack away in the bin of ornaments. It's fun to open it up, the day after Thanksgiving, when the holidays are brand-new and unfurled before us, and remember the Christmas that came before. This year T. wrote the note: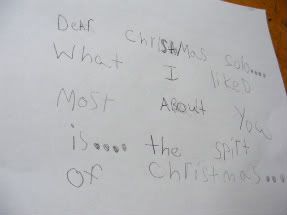 Dear Christmas 2010
Maybe this is why I miss Christmas so much this year. Now that the kids are older, I can really feel the the holiday is more about the spirit, the togetherness, the things that matter in this rapidly changing world--both the big wide world out there, and my smaller, precious one; before it seemed more about the toys, and Santa and the special kind of chaos that follows holidays with small children.
I felt better when I read T.'s note, and we sealed up the ornament bin with a loud snap. She shed some tears, too, and I hugged her close, her still-little body melted into mine.
"Next it will be my birthday!" she said that night.
And so it will.
The next big, exciting, wonderful thing.