This has been a pretty crap week. I won't say more than that, but I sincerely hope that the weather at least improves for next week. There's nothing worse then trying to make your way through a crap week AND have the weather insist on being cold and rainy and depressing in every way. Even the early spring flowers seem weighed down by it all. The tulips in our front yard can't bring themselves to open, and their heads are sagging, almost touching the grass. The world seems to be in a state of suspended animation, yet everywhere I look terrible things are happening in the news. Yesterday afternoon, when I unloaded the kids in the driveway, T. saw the tight yellow buds on the flowering shrub that grows around our mailbox (I used to know the name of it but it escapes me now) and she squealed with delight.
"Look Mama! Flower buds!"
And there I had been, seeing the world as a gray, heavy place and T. saw only the promise and potential in those crisp little yellow buds. In a few days I know the sun will shine, the buds will explode into flowers, and the bees will buzz around them, drinking their fill.
*****************
Although I haven't done much baking and cooking at all this week (I tried to make bread in our bread machine but it broke and all I got was a pan filled with soggy, yeasty mush) T. and I did make some pretty delicious muffins earlier this week. She loves a good muffin and while I haven't yet found a recipe L. will eat, T. will often appreciate any old muffin recipe--especially if she helps to make them. Muffin-making, I think, is the perfect way to include kids in on baking. Most muffin recipes are pretty forgiving and you can toss in different nuts, or chopped dried fruit, and make some pretty wonderful combinations. T. pretty much did all the work making these muffins, and she was very excited about surprising Scott with them when he came home. 
"Let's pretend the muffin man came!" She said conspiratorially to me. When she heard the front door she went bounding to it, grabbed Scott by his hand, and took him to the stove, where the muffins were still nestled in their pan, hot from the oven.
"It's muffin magic!"
T.'s Magic Muffins
1 1/2 cups all-purpose flour
1 cup rolled oats
1/2 cup sugar
2 teaspoons baking powder
1 teaspoon baking soda
1/2 teaspoon salt
Ener-G egg replacer, one egg's worth
3/4 cup soy milk
1/3 cup vegetable oil
1/2 teaspoon vanilla extract
1 cup mashed bananas
1/2 cup chopped walnuts or pecans
1/2 cup golden raisins (T.'s favorite--she only eats golden raisins, for some reason)
Combine flour, oats, sugar, baking powder, soda, and salt. In a large bowl, add the Ener-G egg replacer, and stir in the milk, oil, and vanilla. Add the mashed banana, and combine thoroughly. Stir the flour mixture into the banana mixture until just combined. Add the chopped nuts and raisins. Line a 12-cup muffin tin with paper bake cups, and divide the batter among them.
Bake at 400 degrees for 18 to 20 minutes, or until a toothpick inserted comes out clean.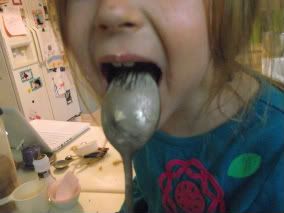 Happy Weekend!