It was a muffin day yesterday. You know the kind of day--cold and rainy and sleepy. Ordinarily, I'm not a huge muffin fan. I don't often crave muffins, and I'm not a big morning muffin eater. I also don't like overly sweet or cakey muffins, and I'm not a big fan of the gigantic, crumbly muffins some places sell (who can eat all that, especially when it falls all over your lap?). When I do crave a muffin I want it to be dense and grainy--dark and moist, maybe only sweetened by blueberries, or chewy dates, or raisins, even. Yesterday I craved muffins. In fact, I started thinking about muffins while I drove L. into school in the morning. It was cold, my hands were cold, the steering wheel was cold, and the radio was playing some meandering and melancholy classical piece that made me think about cozy fires and pots of tea and...muffins. I thought about how a muffin would hit the spot right then and there. Not a store-bought muffin, but one just pulled from the oven, with the blueberries still oozing juice and the steam rising over my hands. Of course it was just a vision, since I was on my way to work and certainly nowhere near an oven, or a cozy fire, or a pot of tea. But I filed the vision away, for later. Then when I did get home with the kids, T. and I made muffins. Lots of them.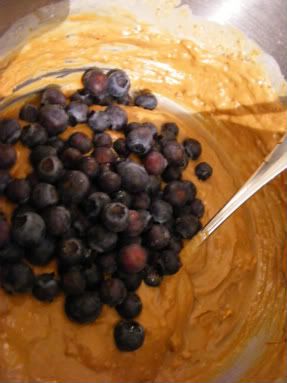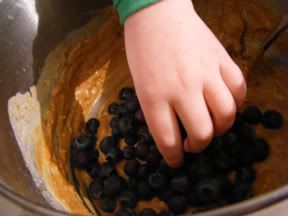 And they were good.
Easy Muffin Day Muffins
Preheat oven to 400
Ingredients:
2 cups flour 3 tablespoons sugar 2 tablespoons dark brown sugar 2 teaspoons baking powder 1/2 cup butter 2 tablespoons molasses 1 cup milk 1 cup fresh blueberries 1 teaspoon flax seed 1 egg Mix dry ingredients together. Melt butter and then beat in molasses with a spoon. Add the egg. Add milk (I used soy milk), and mix until blended but lumpy. Fold in the fresh blueberries--I probably used a teensy bit more than one cup, but tweak to your liking. Spoon batter into muffin tin (I lined mine with paper cups first) and bake until lightly browned on top.
Really
good. **If you're having trouble viewing the photos to this post, you can also find them at my Flickr account,
right here
.