This is what you feed your kids for dinner when they had scones and cream and jam at a tea house at four o'clock, washed down with tea and enough sugar cubes to make you pucker, and then you had the bright idea to take them into an old-fashioned general store--the kind with big glass jars filled with candy--and then you had another brilliant idea and give them 25 cents a piece to pick out candy, which they ate before you even make it to the highway: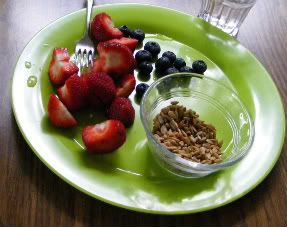 Fruit and nuts. I call it my detoxification dinner for over-sugared kids. Somehow, seeing them clear their fruit-filled plates at dinner made up for all the wincing I did while they sucked down Mary Janes and Laffy Taffies all the way home. ************ My mom was in town this past weekend. We took her to an old English Tea Room for afternoon tea on Saturday, as part of a late Mother's Day present to her, then we spent the rest of Saturday and a good chunk of Sunday at our neighborhood pool, which opened this weekend. Whether we're ready or not, summer is officially underway. The beginning of summer is always a bittersweet, restless time for me. Somewhere, deeply ingrained in my bones, is an annual desire to shed the year and flee across the Atlantic to the purple-blue Mediterranean and the comforting rhythms of childhood summers spent in Greece. I think I have a built-in homing instinct of sorts--the same sort of instinctive desire that sends birds to migrate to the same places every year. It doesn't help that this summer my entire family is heading off to Greece--in staggered departures taking place over the next few weeks. This year my brother is taking his son for his first trip there, and I'll openly admit it: I'm pretty green with envy, and I'm feeling a bit sorry for myself. I ache for Greece, and for the simple things--certain smells, (jasmine at night), certain tastes (crusty bread dipped in Greek olive oil and washed down with red wine); I ache especially for the things that are gone forever, like the sound of my grandmother's voice, the touch of her hand, or the long drawn-out Sunday spaghetti lunches around my grandparents' red formica table. And while I can replicate some of these things right here at home for myself and my family, they just don't ever come close to the real thing. There is a flatness to them all, a hollow ring, a dull taste. Sometimes I'll agonize that I can't give my kids exactly what I had growing up: the chance to have my childhood experiences take root in them--to pass them on, as a type of legacy to my own children. Sometimes I feel guilty that we can't whisk our kids off on some annual exotic summer vacation, or fork out money for adventurous day camp experiences--the types of experiences they'll remember for the rest of their lives. Or will they? But I've also realized that my restlessness, my memories, my homing instinct--these are all mine alone. My kids don't anguish over them the way I do, and they're happy with a summer filled with days at the pool, and with their own simple pleasures: frozen jolly pops sucked down poolside, fresh berries eaten on the porch, watermelons, corn on the cob slathered in butter and salt, firefly chasing at dusk, weekend trips to the beach, the thrill of finding sand crabs in the wet foam by the shore. They are establishing their own summer rhythms, carving out their own experiences and, in return, giving
me
a legacy of their own.
What are your summer traditions? How are you helping your children create their own summer memories?