I couldn't put up a column yesterday because apparently bad days can carry over into the next day, as well, and Wednesday was such a train wreck of a day that my faculties were completely gone by the evening, when I usually write, and all I could do was lie on the couch, watch House Hunters International, and feel jealous of the attractive young British woman who bought the world's coolest loft apartment in the heart of Amsterdam. I won't go into the painful details here, but Wednesday involved fallen-through babysitter plans, a two-hour meeting, a lost stuffed animal, lots of pouring rain, kids misbehaving, too much time spent in Blockbuster looking for said lost stuffed animal, a Category 5 meltdown (L.'s), two parents with zero patience left, and tears (mine). The good news is that T.'s stuffed dog was found on the floor by our bed, sitting quite contentedly as if nothing had happened. But after the chaos and catharsis of spent nerves had worked itself out, after the kids were safely in bed and I could sit and breathe again, Scott and I realized that what we had learned from all the swirling chaos and the rushing around and the stress of Wednesday is that sometimes you just need to slow down.
So I took a mental health day on Thursday to recover from all of Wednesday's trauma, and after teaching my classes I stayed away from the computer for almost the entire day. I took T. to her preschool orientation and shopping for birthday presents for my niece and nephew. As it happened, within minutes after we had checked out and paid for the perfect gifts, I found out that the toy store was about to hold a free music time for kids, featuring a famous local music lady. I had squeezed the present-shopping in between another errand and lunchtime, and I was hungry and eager to finish up our chores. I knew the still-unloaded dishwasher was waiting at home; I knew I had to sort clothes and pack for our Labor Day weekend trip to Maryland; and I had papers to grade--already. I thought about enticing T. out of the store before the music lady showed up, and I thought about the time we had left to finish our errands before we needed to pick up L. from school. I stood there, uncertain what to do: Should we stay or go?
"Have a seat honey," an older woman said to me, gently. She had a big pink guitar strapped to her back and I realized that she was, of course, the music lady herself. "You look like you need to listen to some music," she said, winking at me. Then she took out her guitar, pulled up a stool, and started playing a rousing rendition of If You're Happy and You Know It. Babies and kids clapped and danced, T. sat enraptured as the music lady played on, and I let go of the tight, rushed, I-can't-cope feeling I'd been carrying around with me all week. Everything could wait, I thought. Every little thing.
************
T. and I were going to make Bad Day Cookies yesterday after our shopping, but because we had such a week we changed our plans.
"Forget about cookies," I told T. "We need a Bad Day CAKE!"
A few weeks ago, I found this amazing recipe for making a chocolate chip cookie cake in...are you ready for this? The CROCK POT! So T. and I mixed and added and stirred; we pushed the buttons on the crock pot and left to pick up L. from school. When we came home, the sun was finally peeking out from behind the clouds and the whole house smelled like warm chocolate chip cookies--sweet and inviting and comforting, just like home after a long day away.
Here's the recipe:
T.'s Bad Day Cake (based on a recipe in this cookbook, which a kind friend sent to me)
1 cup unsalted butter (I used margarine--it worked great)
2 eggs
1/2 cup firmly packed brown sugar
1/2 cup granulated sugar
1 tablespoon pure vanilla extract
2 cups all-purpose flour
1/2 teaspoon baking soda
1/4 teaspoon salt
1 cup semisweet chocolate chips
1 cup coarsely chopped walnuts (you can leave these out if you hate nuts, but in my opinion walnuts and chocolate should never be separated)
Grease your crock pot insert with butter/margarine/vegetable oil. Cut a piece of wax paper to fit the bottom and grease the waxed paper.
In a bowl beat the butter, eggs, sugars, and vanilla until light and fluffy. Stir the flour, baking soda, and salt into the butter/margarine mixture (the recipe says to sift it all first in a separate bowl, but I never sift. Is that wrong?). Mix in the chocolate chips and walnuts until well blended. Swat your four-year-old's hand away from trying to swipe chocolate chips out of the batter.
Spoon the dough evenly into the crock pot and smooth the top. Cover and cook on low for ABOUT three hours, until a toothpick comes out clean. Note: I have a 5 quart crock pot and my cake was done after 2 1/2 hours. Set the lid slightly ajar for the last 30 minutes to solidify the center of the cake.
Turn off the heat and remove insert from the crock pot. Allow to cool for 30 minutes. Invert onto rack/plate and let cool, or be impatient and eat warm, in all its oozing chocolate glory.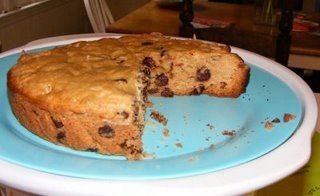 And while you can make this cake any old day, of course, I highly recommend it as a remedy for a truly bad one.