I've been in meetings most of the week, and trying to control the impatient itch I've been feeling to get out and Christmas shop. On Tuesday though, one of my morning meetings ended surprisingly early so my good friend/colleague L. and I decided to seize the moment and head to some local shops together. While our goal was to holiday shop, somehow, happily, we ended up at my favorite thrift store. 
There are few shopping experiences I enjoy more than thrift-store shopping with the right friend. While sorting through odd framed prints and picture frames, I found this: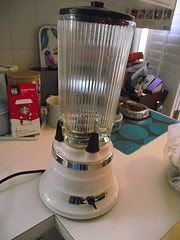 and fell in love with it. Yes, a blender. But not just any blender! A vintage, they-don't-make-'em-like-they-used-to Waring blender, which was in beautiful condition and just promised to be hands-down, no-question-about-it, better than my current  modern blender. It has a heavy base, and a charming cloverleaf glass top.
It's not a Vitamix, of course. I can't afford one, and even if I were to scrimp and save for a year (or two, or three) to raise the money to buy one, I'm not sure I could ever justify to myself spending $450 on a blender--unless my livelihood (or life) depended on it. It's a blender, after all. And while I have no doubts that it whirrs things to perfection, I was pretty certain that my $10 vintage Waring could do a pretty good job, too.
I had to try it out right away. This past summer my sister-in-law made a green apple salsa that I couldn't stop eating. She sent me the recipe, and I tried to make it once in my previous blender, with frustrating results. My blender just couldn't process the lime and apples well and the salsa was a chunky mess. But my thrift store find didn't have any trouble making this recipe. I had to mix it in two batches, since the blender bowl wasn't large enough to accommodate it all at once. I adapted the recipe to include sweet red peppers, less onion, and more jalapeno (spicy!) and lime.
Crunchy Christmas Salsa (adapted from Vitamix)
        
1/4 cup (60 ml) white wine
1/2 small onion, peeled and diced
1/2 red sweet pepper, diced, and some for garnish
1 lime, half with peel, half peeled, and seeded
2 Granny Smith apples, cored and diced into small chunks
1/2-1 jalapeno pepper (tweak according to your heat tolearance!), diced (I left the seeds and membranes intact, but if you want less spice, then remove these)
1/2 teaspoon salt
1/8 teaspoon black pepper
 
Place all ingredients into your heavy-duty, they-don't-make-'em-like-they-used-to blender (food processor would work, too) and process/blend until salsa consistency.
While this would be the perfect salsa for a summer gathering, I thought it was just as fine to serve for a Christmas get-together, too. The red peppers mixed in with the green looked festive, and the salsa was sweet-tart with just the right amount of kick.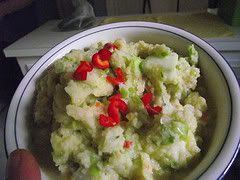 Happy weekend!