If you find yourself in D.C. with Lego-crazy kids (or Lego-crazy grown-ups) then make sure you stop by the National Building Museum before September 3. 2012 and visit the Lego Architecture: Towering Ambition exhibit. Not only is it truly an amazing experience to see famous buildings recreated out of Lego bricks, but the exhibit also has a huge room filled with Legos and Lego tables where kids of all ages can lose themselves in the process of building and creating. We didn't show up at the museum until 4:00 the first day, which gave us only about an hour of time before it closed. My ever-patient husband took L. back there the next day, even though he was completely exhausted from walking around Mount Vernon in the heat. Getting to go back there was the highlight of L.'s day, though, and it was completely worth it.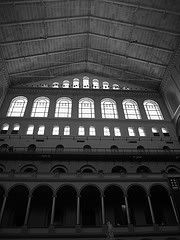 L. fell in love with the architecture of the museum building itself--the towering atrium, the tall columns, and the way the light came in from the arched windows at the top.
Once inside the actual exhibit we first looked at all the Lego buildings. My kids will never see the Twin Towers in person, and it's always a sobering experience to gaze at them, even when they are reconstructed in smaller scale out of Legos. Maybe seeing the towers built of Legos was even more compelling; somehow leaning in close and seeing those tiny bricks that so many associate with childhood and the magic of creative imagination at work seemed extra jarring juxtaposed against the very real and violent memories of that day. L. stood a long time looking at the towers. I know he's seen pictures of them before, but they seemed--I don't know, more real.
So that's what they looked like, L. whispered in awe. Some of the buildings aren't complete yet, like a replica of the White House, but the Lego artist/architect will be returning to finish work. 
After we had our fill of the buildings, the kids took off to the Lego room. As soon as I entered, I had to fight the compulsion to bend down and start picking up Legos. Happily, there are people who work there who are paid to do that! I jokingly asked one of the Lego cleaner-uppers if she wanted to come home and live with us and she made a face and said "no thanks" in a way that implied she was getting tired of taking apart Legos and picking them up off the floor. I hope working there doesn't turn her against buying Legos for her own kids one day.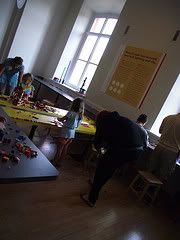 Do you see the Lego Lady in black? She's sweeping up Legos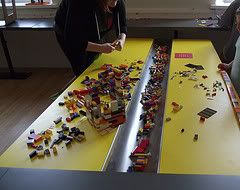 And she has to break apart every Lego piece when the museum closes
I'm so jealous of parents who live a metro ride away from this museum. I can't think of a better way to pass the long summer afternoon hours then up there, in that magical room, listening to the kids talk and exclaim above the click click of Lego bricks. I can't wait to go back!
Happy Weekend!