Last summer I bought an indigo tie-dye kit on a whim, invited a friend and her two boys over, and we spent a few happy hours tie-dyeing everything we could get our hands on. We had so much fun that I vowed to make it an annual tradition, and branch out the following year by holding an actual tie-dye party. After polling some close friends we picked this Saturday for the party and asked friends to bring along anything white they wanted to dye.
I set up the vats ahead of time. The indigo dye process is so much more interesting, I think, then regular tie-dye, although we did have one friend bring a kit for colored dye as well and the kids had fun with that. The process of creating an indigo vat is pretty scientific and interesting, and older kids will be pretty interested in the steps involved in setting up a vat for dyeing.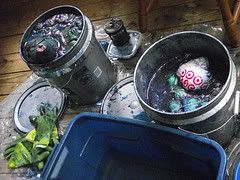 We lined the porch with plastic, and I spent the morning cooking up a storm in the kitchen. T. and I made a ridiculous number of vegetable samosas and I also baked a Greek spinach pie, and made an apple pizza for the kids. We had lots of dips (it was a tie-dye party, after all) and lots of drinks--both the kid-kind, and the grown-up kind too, of course. I tried out a new recipe--for roasted banana pudding, from this month's Cooking Light. If you love banana pudding, get your hands on the recipe--my guests gave it rave reviews and it disappeared in record time.
Although it was pretty hot on the porch, with all those tie-dye vats competing with the 100 degree heat, no one seemed to mind too much. There's something about tie-dyeing that seems to make everyone happy, I think. We made sure to "force" the kids indoors after about halfway through by putting in a movie for the younger kids. Then we grown-ups had a chance to really get serious with the tie-dye.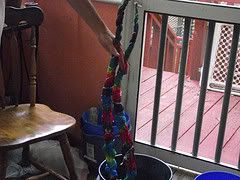 Someone spent too much time tie-dyeing in college, I think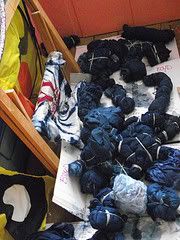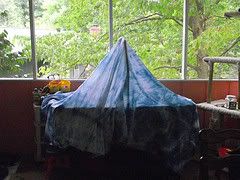 Tie-dyed sheets, anyone?