We all got the gift of a snow day yesterday--well, ice day, technically. On and off all day long Monday I watched the weather radar online, waiting and waiting for the predicted big storm to start. The kids' schools let out 2 1/2 hours early, and when I got home at 2:30 they were hyped up in a frenzy or anticipation. When would the snow start? How much would we get?  L. kept racing to the front porch to scan the skies, T. kept asking me if I knew the exact time the first snowflake would fall By bedtime, though, NOTHING had happened. I was pretty grouchy. My college has a reputation for almost never closing the campus unless there is significant snow on the ground and, even though at bedtime the county schools had declared a delayed opening, I was almost certain I'd be the one scraping off the car and heading into work the next day.
But, miracle of all miracles, it rained ice most of the night and by morning the roads and driveways were covered in a thick, glistening sheet of ice. Both our colleges shut down, schools closed for the day and we had, in front of us, a glorious day at home.
Of course, a day housebound can also lead to boredom, sibling disputes, and frayed nerves. I would be more than happy to spend a day at home in bed, with my latest good read, but kids--my kids at least--need a little more structure than that.
There was a little bickering in the morning, because we all wanted to sit in the family room by the fire with laptops and books but T. likes to read out loud and L. can't stand it when she does that, so there were hurt feelings and uncompromising positions and some storming off to different rooms until I closed up the laptop and set T. up with a project: filling her new photo album with photos. I gave her a little stack of pictures from the holiday, and also set her to work with the pile of holiday photo cards. I'm always at a loss as to what to do with the photo cards once the holiday is over, and I hate to throw them out. So I usually save them in a box marked for that year, but then. of course they add up pretty quickly. This year, when our neighbors gave T. her very own photo album for Christmas, it seemed the perfect solution. She spent a happy 30-40 minutes carefully cutting out the photos of family and friends, and putting them into her album. When it was done, she had the perfect way to not only remember the holiday, but family and friends who are far away.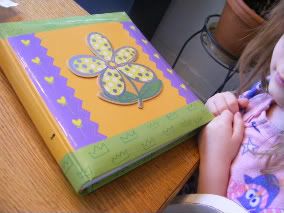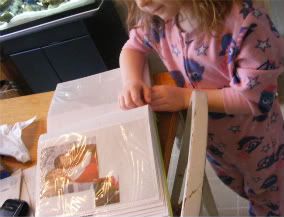 *************************
Here's an oldie but a goodie, as far as a good snowy/icy day craft that not only is fun, but benefits the poor wild critters outside who might have trouble finding food when the ground is covered. T. and I like to collect pinecones when we walk Willa, and I usually keep them in a huge pot on the front porch. Take a few pinecones, roll them in peanut butter, and then coat them with nuts, popcorn, birdseed--whatever you think the birds and squirrels might like. T. and Scott did this the day before our big ice storm, and it was especially fun for T. to feel she was helping out the wildlife, since they can't rush out to the store and stock up on milk and bread the way people do around here.
Attach a string or wire to the top and hang them around the yard, and try not to get too worked up when the squirrel finds a way to take off with the entire thing.