T. and I officially finished all of our holiday baking yesterday. And even though I love holiday baking and cookie-making, I have to say that by the time the last of the dough remnants were scraped off the counter, and the last bowl washed, and the last tray of cookies taken out of the oven, I was more than happy to have reached the end of it all. Every year I start down the road of holiday baking filled with energy and enthusiasm and holiday zest, and every year I get to this point (a few days shy of Christmas itself), and am more than ready to never see a batch of cookie batter or a jar of sprinkles again for a LONG time. But I know this baking burnout will fade, and Valentine's Day will find T. and me in the kitchen again, wildly flinging pink and red sprinkles all over the place.
Our final cookie batch--the grand finale of about three weeks of holiday baking and cookie-making, were Stained Glass Cookies. We've been making them each year, and I almost didn't make them this year because of the baking burnout. L., however, who showed no interest in tree decorating or cookie baking this year, seemed most put out when I suggested not making those cookies this year (they're fun to make, but a little labor-intensive). Of course, when it came time to make them, L. was not to be found anywhere. So T. and I dutifully rolled up our sleeves and produced three beautiful trays, and I couldn't believe I had almost skipped baking them this year.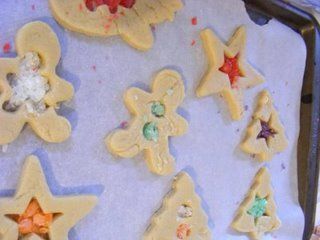 (Aren't these wonderful? T. made these herself out of the little insides of the gingerbread man cutouts we made for the stained glass cookies. She called them "Paper Doll" cookies.)
Today we're on the road, heading home for the holidays. When we lived in upstate New York, we would load up the old Dodge Grand Caravan until almost the bursting point, and make our way south through the scenic little upstate New York towns. All of them were decked out for the holidays, looking like they were plucked right from a scene in It's a Wonderful Life. For years it was just the two of us (and the cat and the rabbit) making the trip; then we were three, and hours of car conversation and listening to the music we liked gave way to hours of storytelling and vain attempts to entertain a fussy baby. Then we moved south and became a family of four, and packing up the car and all the animals has become a Christmas ritual for us, as rhythmic and routine as any other thing in our lives. I know that all around the country today and tomorrow, families will be packing up and heading back to their roots. They will make their way on airplanes and in cars, in trains and by bus, back to where they came from, to gather around a Christmas tree or a holiday meal; to sing carols together or swap family stories, voices raised in unison, bridging distances, and mending hearts.
And you can bet there will be plenty of cookies for Santa tomorrow.
I'll see you back on the other side of it all--safe travels, and have a happy, joyous, glorious holiday.