It's here. The first day of fourth grade for L. We took him school supply shopping on Friday and, some $180 dollars later he had a new backpack, new trapper keeper, new pencils, new ruler, new gym shorts and we had
bags
of supplies we had dutifully purchased to take in to the class. I completely understand the egalitarian motives behind issuing massive class supply lists for each family, but by the time I pushed the cart outside Target I felt that familiar sinking hollow feeling in my stomach that comes from spending large amounts of money in a short time.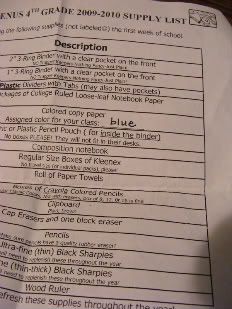 How to spend a lot of money
School supply shopping used to be my one most favorite thing to do before a new school year. To be honest, I still get a thrill from buying post-its and new pens to take into my office. When we got home Friday L. dumped his bag out on the carpet and spent about 40 minutes organizing his Trapper Keeper and placing his pencils in neat order inside his new pencil case. My heart ached in that all too familiar way as I watched him. I was happy to see his excitement over the supplies, but all the same, as I sat on the couch and helped him put loose leaf paper into his trapper keeper, I found myself sending a wish out into the universe that somehow, some
way
he could keep that same thrill alive this year--that same glow. I wished more than anything for his school days to be stress-free, his nights anxiety-free, his world as safe as he needs it to be.
Please let this be a good year
, I wished.
Please let him be happy
. ************* We're off to a good start, I think--
I hope
. L.s new teacher seems very approachable, and very willing to keep the lines of communication as wide open as we need them to be (and we need them pretty wide). We've been in full back-to-school prep mode for some time now,
just as we are every year
around this time. On Sunday morning we sat down with L. and showed him his new schedule, and the new folder of information his teacher was kind enough to give us on Friday--the rest of the kids will get their first look at all that today. We drew up a "contract" of sorts with L. for this year: 1. He must eat one thing from his lunchbox ("can it be a saltine?" he asked) and have one sip of water. He stopped eating both his morning snack and his lunch at school this past spring. 2. Homework will be done at home this school year, and must be completed before any pre-dinner television. We're sad to have to bid farewell to our
homework-at-school method
from last year, but with T. in kindergarten this year, and with her pick-up time only 40 minutes after L.'s dismissal, there won't be time to do his work at school. 3. We are investing in
this software
for L. in the hopes that it will help with homework--particularly the daily reading report sheets. He's very excited about the software, but we've made it very clear that it's there to help him complete his homework (although he does want to use it to complete a "novel" he's been writing in his head for some time now). The rest we'll take as it comes. We've learned that even with all the preparations and good intentions in the world, sending L. back to school at the end of his summer break still feels like a gigantic leap into the vast unknown--sometimes all we can do is cross our fingers and jump, and hope against all hope that the parachutes work.