It was only fitting that yesterday we came home from a morning of end-of-summer-like activities (meet-the-teacher event for L., and a work meeting for me) to find a package awaiting us. A dear family friend has a yearly tradition of sending us a "Christmas in July" package. This year we unwrapped the mysterious brown parcel to find this: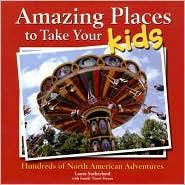 As soon as I picked up the book I felt a surge of regret that the summer is waning, that L. will return to school on Monday, and in ten days I'll be back to work. T. and I set out to look through the entire book, page by page. She's already picked her favorites so far: The
Please Touch Museum
in Pennsylvania
Mammoth Cave National Park
in Kentucky
National Storytelling Festival
in Tennessee
The Golden Isles
, Georgia
Zoolights at Lincoln Park Zoo
, Illinois
Venetian Pool
, in Florida Maybe we'll get to all these places some day, maybe not. Until we do, I know we'll leaf through this book constantly, dreaming of faraway places, golden sanded beaches, sparkling amusement parks, dark caves, swaying palms and twinkling lights. ********** We didn't do too much in the way of ambitious summer science this week. L. goes back to school on Monday (I know, I know it's early--but he's been out since May) and we're in full back-to-school damage control mode around here. But T. and I had some fun with bubbles on the back porch. Bubbles, like play-doh, a fresh pack of crayons, and a newly opened jar of peanut butter, are something you are never too old to appreciate. I can't imagine I will ever be too old to find bubbles magical and amazing--and maybe if I do get that old some day, it will be truly time to throw in the towel. Bubbles teach our kids about how fleeting the truly beautiful things in life are, and remind us grown-ups that sometimes the simple things are the most delightful ones. We decided to make our own bubble solution. It's easy!
Easy Bubble Solution
1 cup water 2 tablespoons light karo syrup or 2 tablespoons glycerin (the karo syrup makes these bubble sturdy) 4 tablespoons dishwashing liquid You can also make colored bubbles by using powdered soap (one part soap to two parts water), adding the coloring, and mixing until it's all dissolved. These bubbles didn't last as long as the karo syrup ones. After you've mixed the solution, send your kids on a scavenger hunt around the house to find lots of bubble blowers. We used twisted paper clips, paper cups with the bottoms cut out, and even tried a toilet paper tube blower--this one worked great, but got too soggy to go the distance. We found the big, wide "bubble tea" straws we'd purchased at the Asian Market worked the best; T.'s pipe cleaner loop created some big bubbles, too. You can also fold a piece of paper into a cone, dip the wide end into the bubbles, and blow through the narrow end.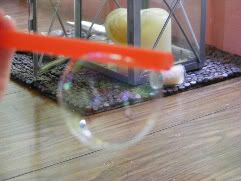 Send your bubbles up into the air and wish yourself away--maybe, I don't know, to Blizzard Beach or the petrified forest, or simply to the local park for an ice cream cone. Happy Weekend!