I'm making pies today. I love making pies. There's something calming about the whole process, and pies are, hands down, one of my favorite desserts. I can't think of a pie I don't like, really. Today I'll be making this pie, and this one, too. Although I must confess that I'm making things easier on myself (too many other preparations to do today--and our yard has been overtaken with leaves again) and using store-bought pie crusts. I'm also making cranberry sauce from scratch this year--I'm excited to see how it will turn out! I'm thinking of using this recipe--it seems simple enough that I can't imagine why I ever used canned sauce.
We have boycotted all discussions about Christmas and Christmas decorations until after Thanksgiving. T. is very strict about this, and she cut me off when she caught me humming Here Comes Santa Claus earlier this morning. We did find this guy at the thrift store the other day, though.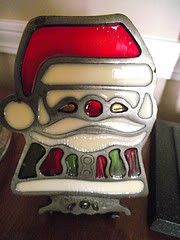 A stained glass candle Santa. Since it doesn't make sense to put him away only to take him out in another couple of days, he's lurking behind the brandy bottles on our buffet.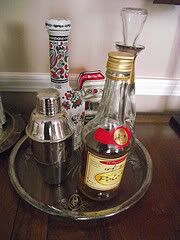 He'll have his day in the sun all too soon.
Until then...
Happy Thanksgiving, from our home to yours!