Every now and then my husband does something crazy and spontaneous like bringing home a giant bag of grocery store bananas he only paid eighty cents for. And he's usually so excited by his purchase that I never have the heart to complain much. I have this theory that deep down, etched into the bones and DNA of many men, is this primitive desire to gather and provide for their families--to stockpile massive amounts of food on the off-chance that the world will end and we will absolutely need bananas to survive.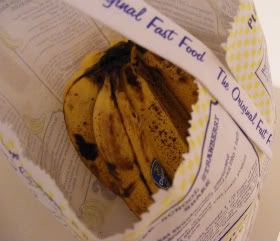 (
This was the bag on Tuesday. When he first brought it home it was filled to the rim
) I'm picky about my bananas, though, and inwardly I cringed at that seemingly bottomless bag of bananas. I'll only really eat a banana if it's perfectly yellow--not green, not brown, but
yellow
. The bananas Scott brought home were teetering on that line between being just barely fine for me the first day, but then by 9:00 am the next day they had toppled over into that place where they just weren't appetizing anymore. But still, we needed to do something with the bananas, and so I vowed I would bravely figure out a way to use them up in various recipes. For instance, on
Sunday
we had banana pancakes--my husband's childhood favorites. Just before you flip the pancakes, slice bananas into the batter. The bananas turn goldeny-sweet on the griddle, and topped with warm maple syrup, they are just heavenly.
Monday
I made banana bread cookies (recipe below); on
Tuesday
I had a banana and sunflower butter sandwich for lunch (easy as pie--spread the sunflower butter on bread, top with sliced bananas. You can also mush the bananas in with the sunflower butter and then spread it all together); on
Wednesday
I took a much-needed break from bananas (whew!), and on
Thursday
we took the rest of the poor, very-brown-at-that-point, unappetizing looking things and used them for our favorite dessert ever--banana ice (see below). And today? Today I'm using these last three guys: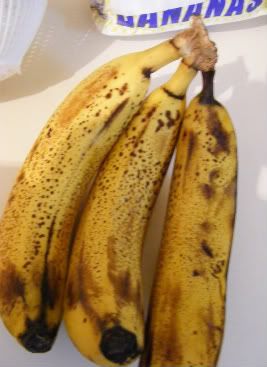 to make
this scrumptious-sounding banana bread recipe
that popped up, coincidentally, on my friend Caroline's site this week. ************
Banana Ice
Cut the bananas into "wheels" and arrange them on a parchment-paper-covered cookie sheet.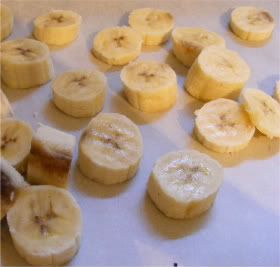 Place the sheet in the freezer and let the bananas...freeze. I'm not sure how long this takes--our freezer is on its way out, I fear, and anything you put in there becomes ice-encrusted in a matter of minutes. When the bananas are frozen, dump them into a blender in batches with a little vanilla soy milk, or regular milk. Don't put in too much milk, though, because you don't want to throw off the consistency. Scrape the contents into a boil, stir some more, and serve plain, or topped with whipped cream, or even chocolate sauce, or both. * Note: banana ice doesn't keep well, so when you make it, you will just have to eat it all at once--which usually isn't a problem at all.
Banana Bread Cookie
s 1 1/2 cups all-purpose flour 1/2 teaspoon baking soda 1/2 cup chopped walnuts 1 small, ripe banana, mashed 1/3 cup firmly packed brown sugar 1/4 cup margarine (or butter, if you dare) 1/4 cup creamy or chunky peanut butter, or sunflower butter (I used a mixture of both) 1 large egg 1 teaspoon vanilla extract Preheat oven to 375. Spray baking sheets with vegetable cooking spray. Combine flour and baking soda in a small bowl. In a medium mixing bowl, beat together banana, brown sugar, margarine, and peanut/sunflower butter until light and fluffy. Beat in egg and vanilla. Gradually beat in the flour mixture until a dough forms. Stir in walnuts. Shape dough into 1-inch balls, placing them 2 inches apart, on baking sheets. Bake cookies until edges are set, about 10 minutes I loved these cookies--they weren't too sweet, and were perfect for rushed mornings when I had to tear out of the house with only my travel coffee mug, and a couple of these cookies wrapped up in a napkin.
Happy Weekend!