I had grand thoughts about writing a long, crafty post for today about all the things you can do with baking soda and vinegar--cork bottle rockets, volcanoes, geysers, bubble bombs, etc.--because there is little more exciting to small, budding scientists then watching the satisfying reaction between vinegar and baking soda. I'll have to save the post for next week, because it's been a long, long week of back-to-work meetings in which the merits of numerous new forms were discussed, crazy school meetings in which the merits of other forms were discussed, and then I spent two and a half hours in a waiting room yesterday afternoon, filling out reams and reams of forms while the movie Garfield played over and over in a continuous loop. I'm looking forward to a quiet weekend--my last one before classes start next week--and to lots of Olympics-watching.
The Olympics have become very popular at our house lately. L. is an avid watcher, and spent most of last Saturday designing versions of the bird's nest stadium out of his Kapla blocks. The kids held a mock Olympics in the kitchen on Tuesday, complete with shot puts constructed out of paper and weighted down with pieces of K-nex building set. L. set up paper targets at the other end of the kitchen and he and T. practiced flicking the discs into the targets. Afterwards there was a medal ceremony, of course, and T. didn't seem to mind always winning the bronze--while her countryman L. consistently swept the gold.
To add to the atmosphere around here, we decided to make homemade egg rolls on Wednesday. I think they'd be a great family project for any Family Cook Night, or for an Olympics-watching get-together. You can also make sweet egg rolls as well, as I did once. Just mix together chopped apples or pears, cinnamon, and sesame seeds or walnuts, fill the wrappers, fry, and serve with honey or powdered sugar.
Egg rolls are easy to make! Especially since you can buy the egg roll wrappers in most grocery stores. They look like this:
Here's what you'll need for the filling (tweak as necessary):
Half a bag of broccoli slaw. This is basically matchstick chopped broccoli, usually mixed with carrots.
Chopped garlic (I used one clove)
A teaspoon of chopped ginger
Diced tofu
Soy sauce to season
Diced water chestnuts or bamboo shoots or any Chinese vegetable, really.
There are no precise measurements for this. If you like garlic, add more. If you like the filling to be gingery, go crazy with the ginger. After you've chopped and diced everything, toss it all into a skillet with some oil, and cook until the veggies are crisp-tender. I sprinkled lots of soy sauce to taste over the filling while it cooked.
When it's done, place a couple heaping tablespoons in one corner of the egg roll wrapper like this: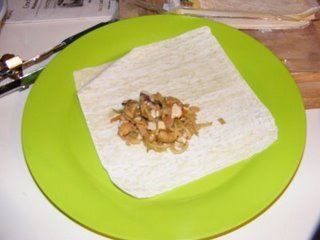 I probably could have added more--if you like your egg rolls really stuffed, then definitely put more filling down before you wrap.
Then let your kids wrap and roll!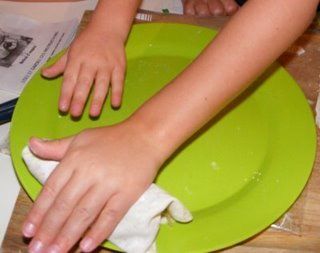 I should have taken pictures of the egg rolls when they were done and all crispy and golden and piping hot. But it was too close to dinner and T. spilled a cup of juice on the floor, just as I had fried the last one. But the egg rolls were delicious, and all in all they only took about 25 minutes to put together, from start to glorious finish. They are perfect dunked in bowls of tangy duck sauce and eaten while watching synchronized diving.