There are
those family trips that tax you
, so that you just can't wait to get home and settle back into ordinary life; then there are those magical trips where everything goes so wonderfully, where you find yourself feeling like a kid again, and in an out-of-body-type experience you watch your own children having the time of their lives and you think to yourself,
they're going to remember this
--because
you
remember having vacations like that when
you
were a child. Our trip to Colonial Williamsburg was just like that--a wonderful, albeit short--getaway from it all. If you haven't had a chance to visit Colonial Williamsburg yet, then I encourage you to put that trip high up on your To Do list. It's most perfect for older elementary school kids, and all ages after that. L. soaked up every minute we were there, and my normally fidgety, pacing boy sat in rapt attention through a half dozen guided tours. T. enjoyed exploring the outdoors more than the guided tours and re-enactments (during a particularly riveting re-enactment of Henry Hamilton standing in chains before Williamsburg officials she piped up loudly "is it over now?"), but at five her understanding of the history of the pre-Revolutionary War period is a little hazy. There is still lots to do for younger kids, but be prepared with some ready activities (coloring, cards, etc.) to help your younger child get through some of the guided tours. Things to remember if you DO plan a visit:
When picking a hotel, choose one that's clean and cheap
(you can find reviews of most hotels online). While
I
might prefer the luxuries of a finer hotel, there's no point in wasting money on a high-end hotel when you're traveling with kids. My kids are always thrilled with any hotel or motel--they take absolute delight in the little bars of soap, and L. has a large collection of hotel notepads and pens. They also thought that the pretty bare bones free breakfast bar was the best thing on earth because one of the cereal choices was Fruit Loops--something they
never
get to eat at home. Also, Colonial Williamsburg is pricey--especially when it comes to souvenirs and meals. When traveling we always prefer to spend money on meals and souvenirs, and skimp on the lodgings. We stayed
here
. Not only was it 100% pet-friendly (no pet fees at all!) but the room were large and clean, and the hotel was only about seven minutes from the Visitor's Center.
Colonial Williamsburg is very dog-friendly
. You can't bring your dog into any of the buildings and exhibits, but this isn't a huge problem if you go along with someone who can stand outside and take turns. We only had Willa with us for a couple of hours on Saturday afternoon, since we had checked out of our hotel and still wanted to see some more of the sights. We were even able to take her on the shuttle bus back to the Visitor's Center--ask your shuttle driver if this is okay, since apparently whether or not your dog is allowed is up to the discretion of your particular driver. Just make sure you take along a container and plenty of water if you'll be walking around with your pet, since there's a lot of walking--even for a dog.
Pack snacks and light lunches for the days when you'll be at the site itself
. I usually am very on top of packing food--I've been caught unprepared in way too many travel situations. But for some reason we assumed we'd be able to buy light fare as we went--and that it would be fun to do so. Unfortunately there isn't much in the way of light fare in Colonial Williamsburg itself (the bakery building did sell deli sandwiches, but they were all made with cold cuts). Both days we subsisted on light lunches of apple cider, ginger cakes, apples, and a bag of peanuts. The second day L. caved in and tried a ginger cake--thanks goodness.
You'll never be able to see everything everyone in the family wants to see in the course of a day and a half
. I'm not sure you could do this even if you visited for an entire weekend. Go through the map and exhibit information with the kids the night before you hit the site and have each child vote on what he/she wants to see the most. I don't have any suggestions for what you do
after
that, since we're till mastering the art of democracy-among-siblings around here, but at least you have something you can work with.
Some re-enactments and tours may not be 100% child-friendly, so make sure you do take the time to explain any confusing scenarios to your younger children
. The program does list ones that are unsuitable for small children, but many of the other tours and re-enactments do involve mention of some of the bloodier and cruder aspects of Colonial Williamsburg living. I don't think there is anything too alarming in most of them, but we did have to explain to T. that the woman standing trial for horse-thievery was
not
actually getting her hand branded by a hot iron at the end.
Make the most of every teaching moment
. I'll admit it--I used to inwardly groan with boredom when my parents insisted on providing us kids with in-depth overviews of every single piece art we were looking at in every museum we ever went to, but I do think it's important to set the context for your kids. They are more likely to learn and remember what they see if they understand some of it beforehand; they are more likely to expand their understanding of history, no matter how simple or complex it might be at that point in time, if they learn to question it, to examine it closely, to see the larger picture every where they go. More on this tomorrow.
As with any trip you make when traveling with children, pack a change of clothes for yourself
, as well. Because no matter how many shirts, shorts, and socks you pack for your kids, you'll STILL be the one with apple cider down your shirt front at the end of the day.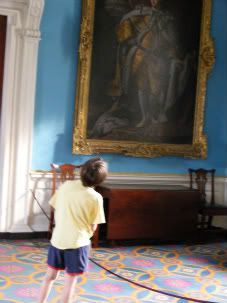 L.checks out the artwork in the Governor's Palace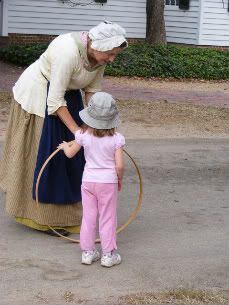 T. gets a lesson on bowling a hoop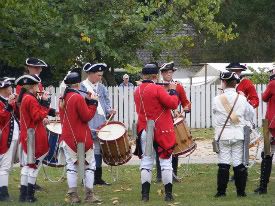 Tags