Only one full weekend left until Christmas!  I'm trying to make good my promise to myself to make each minute of pre-Christmas preparations, baking, and excitement count for all they are worth. It's been difficult, though. We are still working through the sadness of Scott's grandmother's passing, and her absence this year at our family Christmas gathering next weekend, and I spent Sunday morning in urgent care with T., who had an allergic reaction to the antibiotic she was taking to clear up her sinus infection. As you might know (but I hope not), allergic reactions are not fun, and poor T. has been miserable.
To cheer her up, we bought a gingerbread house-making kit. I had fleeting fantasies a few weeks ago of constructing a house from scratch, homemade gingerbread and all, but that fantasy quickly vanished in the wake of Willa-dog's surgery, final exam grading, and my bronchitis. It's hard to feel like baking when you can't see straight for coughing.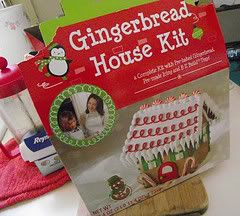 We have not made one since 2008, when I became overly frazzled trying to assemble one. But this one came together without too many problems, and the kit we bought from Target came with a large bag of sticky icing for a change--enough to patch one of the walls when it fell and cracked in two. I couldn't believe it when the walls and roof pieces actually stayed upright and held together.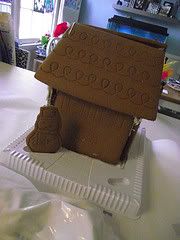 We were good and followed directions. We left the house alone for a full 75 minutes while T. watched Rudolph the Red-Nosed Reindeer. I think even the most jaded gingerbread house-makers would agree that there is something so uplifting and cheery about the candy, spilled across the counter,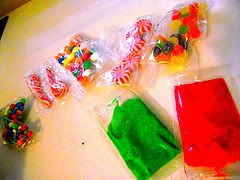 And even if you are covered head-to-toe in horrible, red, itchy hives, it's still fun to unwrap the peppermints and stick them deep into the icing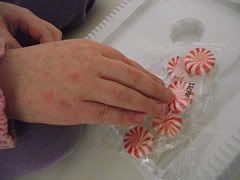 (Do you see poor T.'s spotty hand? This is nothing compared to her back and chest and legs)
When it was done T. said it was so beautiful she couldn't stop looking at it. The only question is, what do we do next? Eat it? Leave it to admire? What do you do with your gingerbread houses?