Most people probably know the old folktale about the gingerbread man--especially if you're a parent. T.'s class did a fun project early last week. Her teacher brought in gingerbread dough and the kids all made their own gingerbread cookies. Then, when the teacher went to the cafeteria to bake the cookies in the school's oven, those cookies upped and scampered off as fast as they could.
The kids were incredulous when the teacher came back and reported the misadventure. They ran to the classroom windows to peer out, just in case they happened to catch sight of any of those little fellows running off into the distance. The teacher sent a paper home to parents asking if we could send e-mails or write letters reporting that we'd spotted the cookies here and there and all week long T. has been coming home so excited to tell us about the latest gingerbread man cookie spotting. 
All week long, too, she's been begging for us to make gingerbread cookies of our own. She decided she wanted to hold a gingerbread cookie party this weekend with my parents, complete with ginger ale and lots of cookies, of course. I spent some time on the internet last week googling gingerbread recipes, and I found this one which, for whatever reason, just appealed to me--maybe it was the lemon icing? Or the fact that I often feel as the recipe blogger does herself: most gingerbread cookies are rock hard and not that appealing--to me, at least.
But this recipe was wonderful! I veganized it only by substituting Earth Balance margarine for the butter, and the cookies were dark and moist and molasses-y, even if they weren't too spicy and gingery. I left out the black pepper, because T. was so longing to try the gingerbread that I didn't want to make the taste too strange for her. But a grown-up would probably have found the addition of the black pepper pretty intriguing, I think.
I have a good friend who years ago sent us a wonderful holiday gift: a set of Crate & Barrel gingerbread family cookie cutters. There's one for the mama, one for the papa, and boy and girl cutter, a dog cutter and, finally, a gingerbread house-shaped cookie cutter. T. loves this set, and every year she gets it out well in advance of any baking and sets up the whole family on the kitchen table.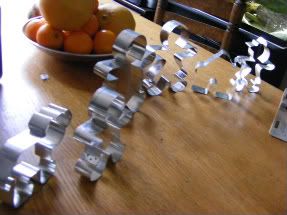 We had to chill the dough for almost two hours, but this gave my mom and I time to slip out and do some holiday shopping and I remembered right away why I don't like to holiday shop on the few weekends right before Christmas.
When we got back, T. was more than ready to roll out the dough and start cutting the cookies.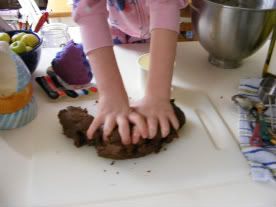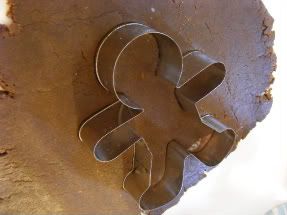 For the gingerbread party, I made a yummy VERY grownup drink: pomegranate gin slings from last month's Cooking Light magazine, and T. and L. had kids' versions: ginger ale with pomegrante juice mixed in--very sparkly and festive looking. T. dubbed her "cocktail" Pomegranate Fizz--the perfect name, I think.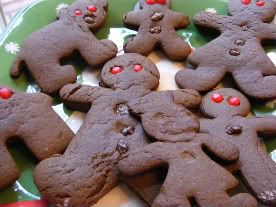 We didn't ice the cookies in the end because I discovered I was out of confectioner's sugar and, after a morning of shopping, there was no way I wanted to go back out into the rain and into anything else resembling a store. No one minded the lack of icing too much, though; although I definitely will try the icing next time I bake these.
I think I'm finally, at long last, feeling like the holidays are truly here. And, if you see any gingerbread cookies running about town next week, let me know and I'll pass the new along to T. and her classmates...