We were surprised by a snow day yesterday! The kids' two-hour delay turned into a school cancellation, which was  a bit mysterious to us grown-ups but the kids were thrilled. Unfortunately the snow was of the icy variety, and so the kids couldn't even spend the day playing in it or sledding. We did get them geared up and outside for a little while but L. ended up completely frustrated that he couldn't form a decent snowball to throw at his sister, so he retreated back into the house and the predictable comforts of the computer.
Then we spent the rest of the day trying to get him off the computer.
I was happy that the kids got a snow day, and that we all got to sleep in a little for a change. But I had also set aside yesterday and today for some much-needed, kid-free holiday shopping. L.'s last day of school is Friday, and I was trying to avoid dragging him around to stores and on errands early next week. I had also set aside yesterday to finish up shopping for gifts for all the wonderful, hard working teachers in our lives. I like shopping for teachers' gifts in general, but every year I put it off until the last possible minute because I feel so overwhelmed by the sheer number of teachers in our lives. 
Everyone has a different philosophy about what gifts make great ones for their children's teachers and the staff and tutors, etc. who people their lives. Everyone also has their own personal set of rules and reasons governing the ritual of gift-giving for teachers, too. I've heard some parents say to never give food as gifts, or candles, or bath lotions, etc. Some people say bath care products are too personal, or that too many teachers end up with candles every year and so they hate them, or that food is too risky (one mom told me years ago that she thought food gifts were "inappropriate"--why, I don't know. I wish I'd asked her). I have to say that we've violated all of those rules and regulations over the years. We've given candles, soaps, lotions, AND food. One year I put together little baskets of goodies from Trader Joe's, and I last year I not only gave T.'s kindergarten teacher's aide a bath set but also a pair of COMFY SOCKS which many could argue was a highly personal gift. However, she was a grandmotherly sort of lady--a wonderful, nurturing lovely lady and she very much appreciated the socks, I think.
This year I did most of the gift shopping here, a place I love to support. I bought four of these beautiful paperweights, handpainted by artists in Nepal: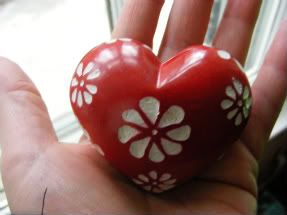 They were just $5/each. I fell in love with them, though, and had to stop myself from buy one for my own stocking. 
I also found this cat ornament for L.'s teacher, who loves cats, apparently: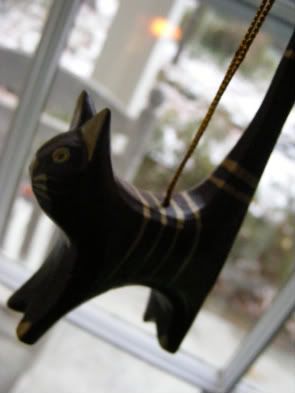 And this cookie mix for her as well.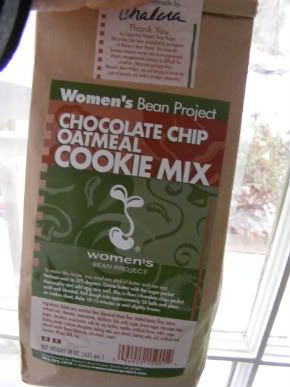 I bought two of these eco-friendly portable coffee mugs for two other teachers for a budget-friendly $5/each as well.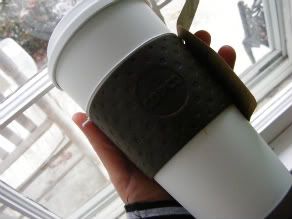 I try and avoid giving gift cards because, while I know they are probably appreciated, they just don't seem personal enough. But I will buy a couple this year to put in cards for one or two of the supporting resource teachers who help out L. so much. I try and pick gifts that I think I would like and appreciate, too, and gifts that seem to fit the teacher in question, and that will make them feel special. This year I feel particularly grateful for the support and care those teachers have shown L. this very difficult past fall. I'm not sure any gift we can give will convey our gratitude enough, but I hope it will be a start, at least.
Happy Weekend!