Every year around this time, I look at the calendar with a start and realize that my kids need Halloween costumes. We usually start thinking about Halloween in theory months in advance (T. started talking about Halloween back in August), but as with all things, actually getting down to doing something about costumes doesn't happen until the 11th hour. I don't think I'm completely alone in this.
My kids are pretty unpredictable when it comes to costumes. Last fall, for instance, I shopped early and found T. an adorable vet costume at my favorite thrift store. I spent about six weeks trying to convince T. that she wanted to be a vet for Halloween, to no avail. Then, in a moment of insanity and poor judgment, I found her a princess costume on sale at evil mega store and bought it with her beside me, earnestly assuring me that she wanted to be a fairy princess more than anything in the whole wide world. Somehow, on Halloween night, we found ourselves digging out her old Care Bear costume from the back of her closet. This year T. wants to be pink Cheer Bear. Or Bedtime Bear again. Or Cheer Bear. She's still making up her mind.
Last year L. was determined not to dress up as anything, but decided in the 11th hour that he would wear only a simple orange T-shirt, with an ironed-on (by me) NASA logo. He was a research astronaut. This year, however, he wants to wear the uniform of the Utopian country he's designing--a uniform that, after sifting through pages of archived military photos, L. tells me bears an uncanny resemblance to this: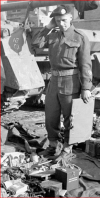 And THIS is the year I vowed to make the children costumes, instead of buying them.
I've determined that parents approach Halloween costumes in three different ways: 1) there's the group I envy--those who faithfully sew intricate costumes weeks in advance, 2) the group who flee to the stores to find just the right thing, and 3) the group I belong to--the group of parents who really WANT to hand-make the costumes, but because of time, unrealistic expectations (by the kids), and lack of creative resources, end up assembling the costumes from a hodge-podge of sources--some bought, some scrounged. My parents made great costumes for us when I was younger. One year I was the Knave of Hearts from Alice in Wonderland, complete with cap and sword; another year my sister and I were both ballerinas--we used our own tutus and shoes. Our costumes were never store-bought perfect, but they were fun and did the trick; dressing up, after all, is more about how you feel the part, and less about looking like an exact replica of Hannah Montana.
Every Halloween I want to recreate the excitement of making our own costumes, and every year time and circumstances and lack of creative know-how get the best of me. But this year, more than any other, it makes sense to bypass those evil mega stores and Halloween stores and turn instead to making more economical, environmentally-friendly costumes from things you already have--or from gently-used thrift store finds.
I have vowed this year to try to do it all ourselves. And I have vowed to start early, to avoid the temptation to run to the store for a "quick-fix" easy costume. In the spirit of embracing our pitiful fall weather, we'll not only shop for pumpkins this weekend, but get to work on costumes. For T.'s Cheer Bear, I'm thinking of pink fleecy leggings, a pink long-sleeved top, and a head band with pink ears. I'll put my iron-transfer skills to work and iron-on a rainbow symbol for her tummy. For L.'s, I don't know--but we'll probably be combing some thrift stores from now until October 30. What do you think?
What is your approach to Halloween? What are your economical, environmentally-friendly costume ideas? I'd love to read about them in the comments.